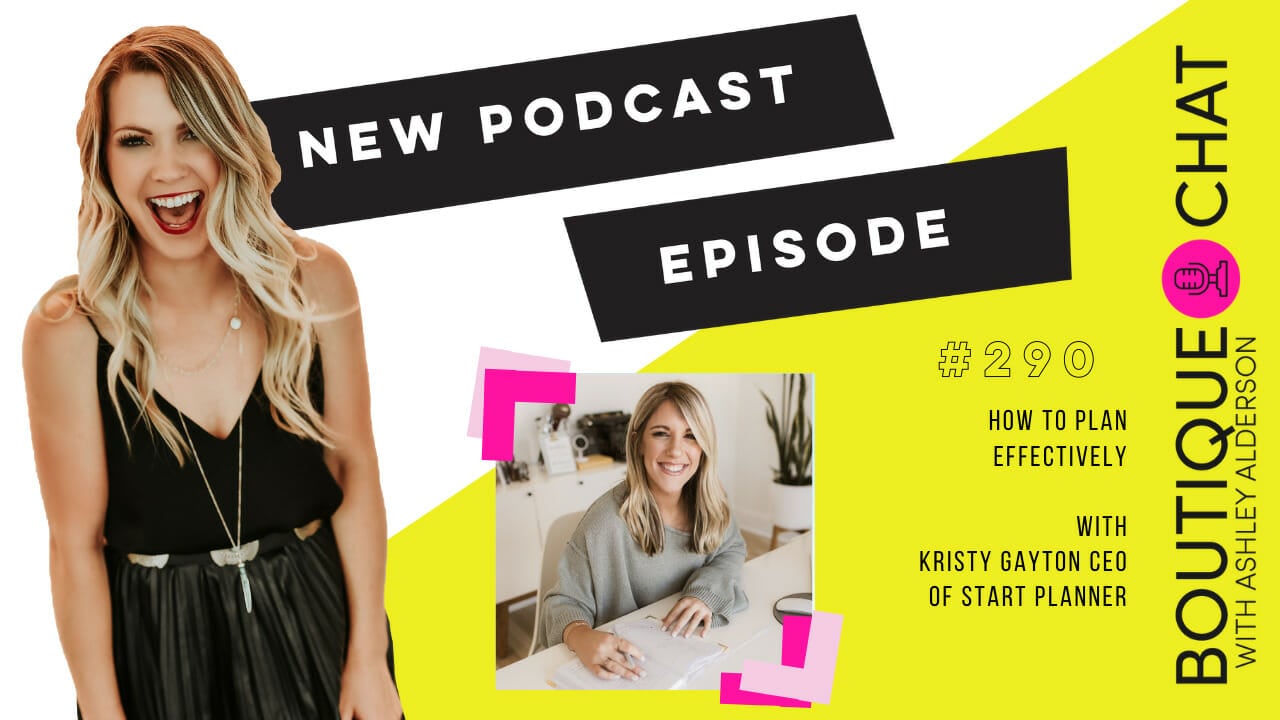 22 Dec

How to Plan Effectively

Today on the Boutique Chat Podcast Kristy Gayton, CEO of Start Planner, joins us for  How to Plan Effectively. Kristy is a productivity expert who wanted a planner that meshed solid business principles with everyday life, so 6 years ago she started her company the Start Planner. Today she will go over the best strategies for mapping out your week, the importance of time blocking, and the mindset needed to achieve your goals. But that's not all, tune in to get all the details! 

>> EPISODE 290 – LISTEN NOW ON iTunes <<
Don't Have iTunes? Listen on Libsyn here
See the Full Boutique Chat Podcast Website here
Key Points:
---
Mindset work before productivity.
Set up an overall schedule and time block out your days.
Take time to reflect so you can plan for future success.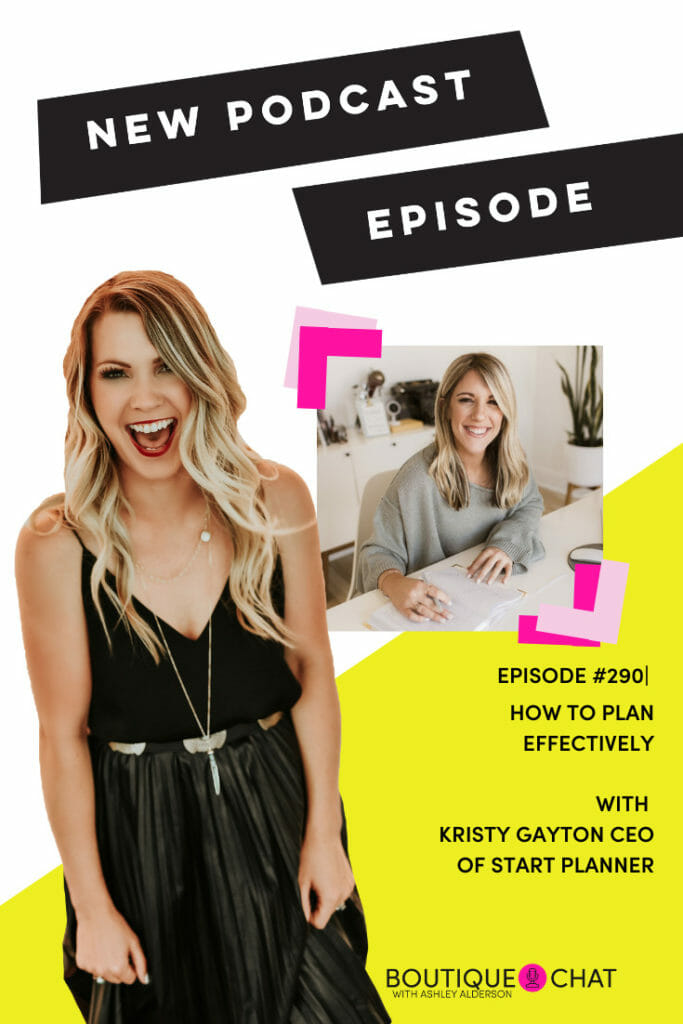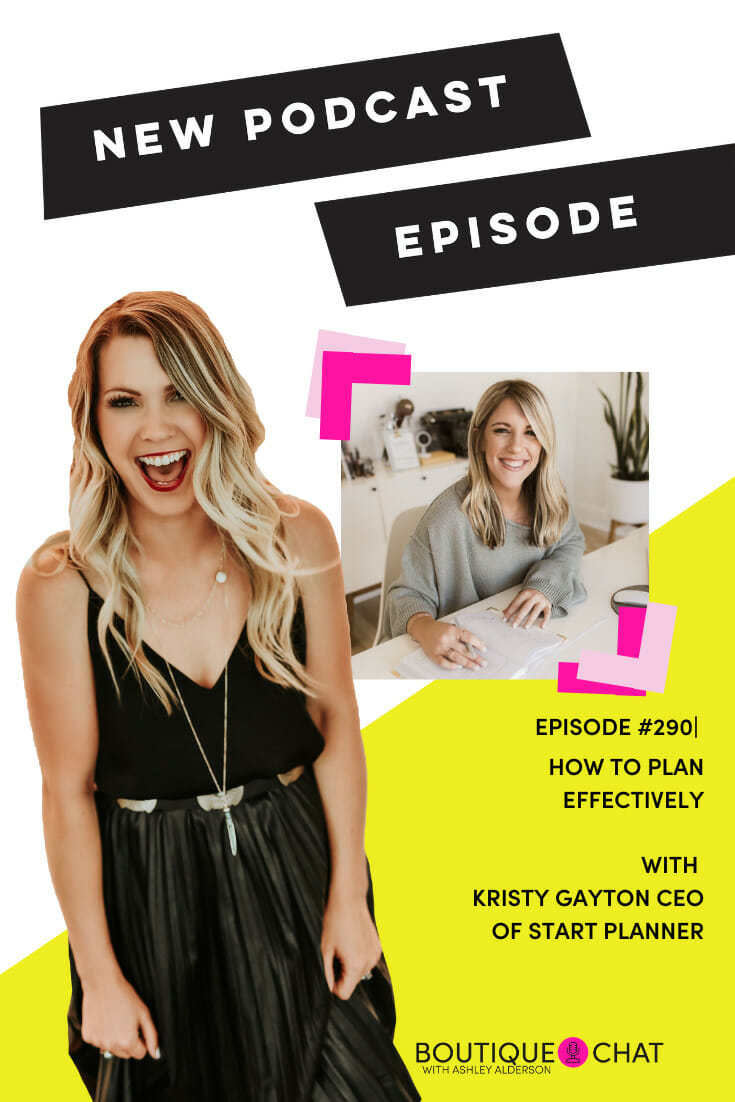 Favorite Quotes
---
"It's all about creating systems and habits that make us more efficient with our time to leave us more space to do the things that we enjoy and to not be stressed." -Kristy
"Take some time to reflect. A lot of the time we think hustling or working harder will reap more reward, it's not necessarily that, it's working smarter." -Kristy
"Coming up with a plan and coming up with strategies for each of your goals is important and that's where you should start." -Kristy
Where to find Kristy:
Instagram: @startwithkristy & @startplanner
Website: https://startplanner.com/
---
SIGN UP FOR EMAIL UPDATES ON OUR WEBSITE:
https://theboutiquehub.com/boutique-summit-2020/
Join the Hub for more training, information, and connections.
www.theboutiquehub.com/join
Use the hashtag #AskAshley on Instagram, or tag her at @ajalderson or @theboutiquehubto suggest topics for the podcast and let us know what you thought about this episode!
Want to be our listener of the week? Then Subscribe to our podcast and after that, leave us a review on iTunes Apple Podcasts here!
Original Air Date: December 22nd, 2020
Do you love the details How to Plan Effectively? Let us know what you think about our show and help spread the word about the #BoutiqueChat Podcast.
Recent Posts:
2021 Boutique Summit Tickets & Sponsors

It's almost time for the 2021 Boutique Summit! Besides tons of education to help you crush Q4, we are going to CELEBRATE ourselves & have some fun!

Working With Your Spouse

Working with your spouse can bring on challenges but it can also be so rewarding! Today Ashley and Eric Alderson give their insight and advice on being married and working together. This candid conversion covers setting boundaries, intimacy, and how they handle conflict. But that's not all, tune in to hear all the juicy secrets from this power couple! >> EPISODE 318 – LISTEN NOW ON iTunes <<>> EPISODE 318 – LISTEN NOW ON Spotify…

Creating a Profitable Boutique in 8 Months

How do you market your boutique in 2021? Morgan Phillips created a Profitable Boutique in 8 Months. Today she discusses how her business thrived so quickly, marketing on Tiktok, and how to create a community around your brand.