What does it take for both wholesale brands and retailers to be successful? That's what we're breaking down today with Sammi Hill, co-founder of Mixologie and long-time member of the Boutique Hub. This is a conversation not just for those on the wholesale side wondering how to grow their brand and reach more retailers, but it's also a conversation for the retailers who are looking to up-level their success and get more repeat sales.
Take a listen as Sammi shares the common traits that her most successful retailers have in common (whether they're brick-and-mortar or online), how wholesalers and retailers can create better long-term relationships with one another, and how retailers can get people coming back to their stores repeatedly to purchase. We also discuss the industry, including how it is evolving and changing, and Sammi shares the how Mixologie has grown since its inception back in 2015 to become one of the top perfumers of the boutique world.
>> Keep 'Em Coming: Building a Consumable Brand – LISTEN NOW ON iTunes <<
>> Keep 'Em Coming: Building a Consumable Brand – LISTEN NOW ON Spotify <<
See the Full Boutique Chat Podcast Website here
Watch the interview on YouTube:
What You'll Learn From Keep 'Em Coming: Building a Consumable Brand
Where the idea for Mixologie came from and how it works.
How Sammi decided to go wholesale with Mixologie.
What community over competition means to her on the wholesale side.
How she started to build the wholesale sales channel for Mixologie.
How she sees the industry evolving and changing.
How beauty as a category has expanded over the past few years.
What the most successful online retailers have in common.
What the most successful brick and mortar stores have in common.
How to build a consumable brand.
What Sammi hopes her legacy is.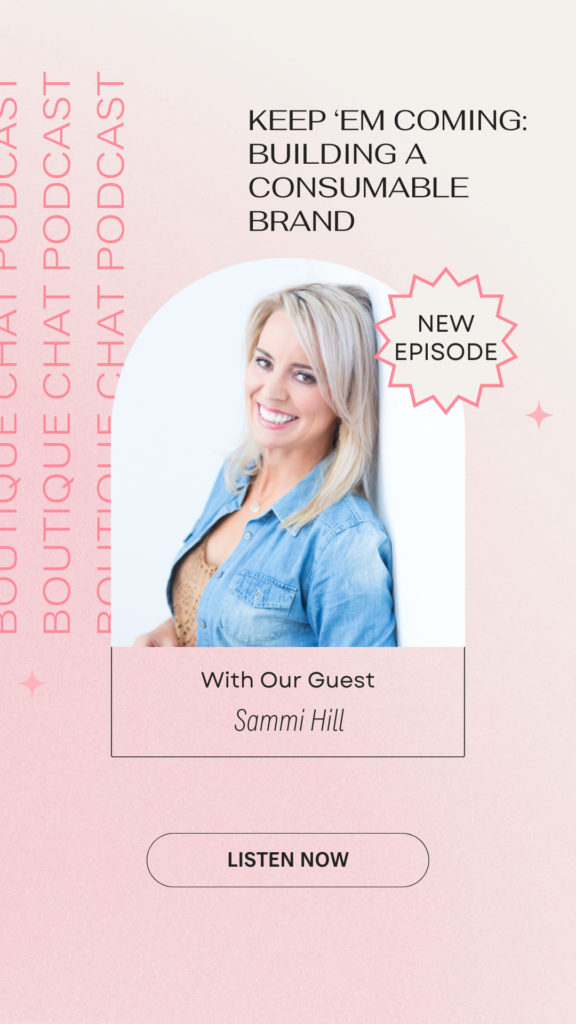 Favorite Quotes from Sammi Hill
"No matter what the other brands are selling, there is probably some way to work together." – Sammi Hill [13:00]
"Rep connections really accelerated and escalated our growth on that critical first year of wholesale." – Sammi Hill [15:50]
"We are all small business owners that are working towards the same goal." – Sammi Hill [25:30]
---
Resources Featured In This Episode:
---
Join the Hub for more training, information, and connections.
www.theboutiquehub.com/join
Use the hashtag #AskAshley on Instagram, or tag her at @ajalderson or @theboutiquehub to suggest topics for the podcast and let us know what you thought about this episode!
Do you love the Boutique Chat Podcast?! Subscribe to our podcast and after that, leave us a review on iTunes Apple Podcasts here!

Original Air Date: June 7th, 2022
Do you love the details of Keep 'Em Coming: Building a Consumable Brand? Let us know what you think about our show and help spread the word about the #BoutiqueChat Podcast.
Recent Posts: