One of the biggest opportunities that boutiques have available to them today is to diversify their revenue streams. Want to know how? In this episode, I'm sitting down with Kait, who is a long-time Boutique Hub member and has consistently pushed through to the next level when it comes to her success—in part by creating multiple revenue streams in her business.
Listen in as we get open and honest about what it has taken for Kait to grow her boutique, what obstacles she had to overcome, and how she has leveraged the business and the influence she has built to generate multiple streams of revenue. No matter where you are in your boutique journey, I promise you'll be able to relate to Kait's story in some way, so get comfortable and enjoy!
>> The Importance of Multiple Revenue Streams For Your Business – LISTEN NOW ON iTunes <<
>> The Importance of Multiple Revenue Streams For Your Business – LISTEN NOW ON Spotify <<
See the Full Boutique Chat Podcast Website here
Watch the interview on YouTube:
What You'll Learn From The Importance of Multiple Revenue Streams For Your Business
---
Kait's journey through boutique ownership.
How she got traction for her boutique using live selling.
Her secret to success.
How Kait has made her partnership with her mom work.
The challenges that came from having a storefront.
How Kait has leaned into a CEO mindset.
How she made the decision to be an influencer.
The tools she uses as an influencer.
The keys to a successful influencer partnership.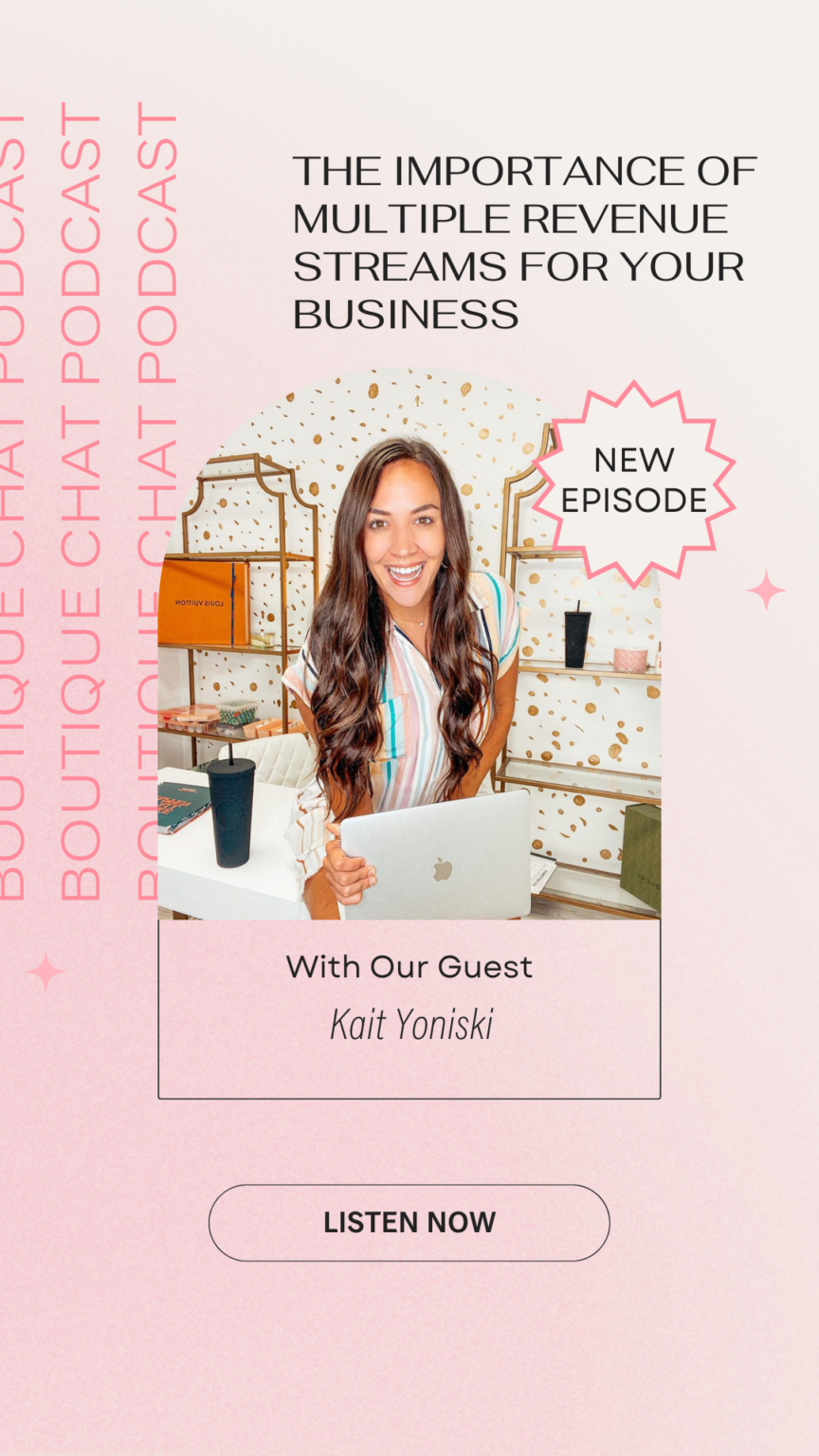 Favorite Quotes from Kait Yoniski
"Don't give up and keep trying new things." – Kait Yoniski [11:05]
"We're a family, so we get past things really easily." – Kait Yoniski [14:25]
"I didn't even know you could monetize until somebody offered me money one time to post something." – Kait Yoniski [25:30]
---
Resources Featured In This Episode:
---
Join the Hub for more training, information, and connections.
www.theboutiquehub.com/join
Use the hashtag #AskAshley on Instagram, or tag her at @ajalderson or @theboutiquehub to suggest topics for the podcast and let us know what you thought about this episode!
Do you love the Boutique Chat Podcast?! Subscribe to our podcast and after that, leave us a review on iTunes Apple Podcasts here!

Original Air Date: May 24th, 2022
Do you love the details of The Importance of Multiple Revenue Streams For Your Business? Let us know what you think about our show and help spread the word about the #BoutiqueChat Podcast.
Recent Posts:
Cultivating Successful Habits For Life and Business

Not only are we talking about journals, but also what it takes to be a business owner and cultivate successful habits for life, business, healthy, family – everything! 

How to Buy Wholesale Clothing for Your Boutique

One of the most important parts of being a successful boutique owner is how you buy wholesale clothing and products for your boutique. Sourcing for great quality, trends and price will set you apart from the rest. Here are the things to remember when buying wholesale and four key places to source for your boutique!

How to Recession-Proof your Business

We know that nothing in the economy is ever certain. But whether you are feeling the weight of stand-still sales now, or just want to be prepared for anything, use these tried and true strategies to recession-proof your business from the Hub.