Lori Harder is an author of several books, host of the hit podcast Earn Your Happy, and most notably now the founder of Lite Pink, the best tasting low-calorie premium rosé flavored wine seltzer. She is also incredibly active in the personal development space and is also one of the most brilliant minds for women in business today.
In this episode, we go behind the scenes as Lori shares all the highs and lows of her experiences in business and discusses some of the most common struggles that women in business face today (including how to overcome them). We also dive into what it means to have a CEO vs. an entrepreneur mindset, how to leverage the mess in your business, and where to look for true happiness in your life.
>> Learning In The Messy and Speaking Your Dreams Out Loud – LISTEN NOW ON iTunes <<
>> Learning In The Messy and Speaking Your Dreams Out Loud – LISTEN NOW ON Spotify <<
See the Full Boutique Chat Podcast Website here
Watch the interview on YouTube:
What You'll Learn From Learning In The Messy and Speaking Your Dreams Out Loud
---
How Lori first knew she was on the right track.
The importance of speaking your dream out loud.
How Lori learned to be unapologetic about what she loved.
How to be happy as a human being.
The three most common mindset shifts that women in business need to make.
How to learn to let go.
What it means to learn in the messy.
Why she started Lite Pink.
Where happiness comes from.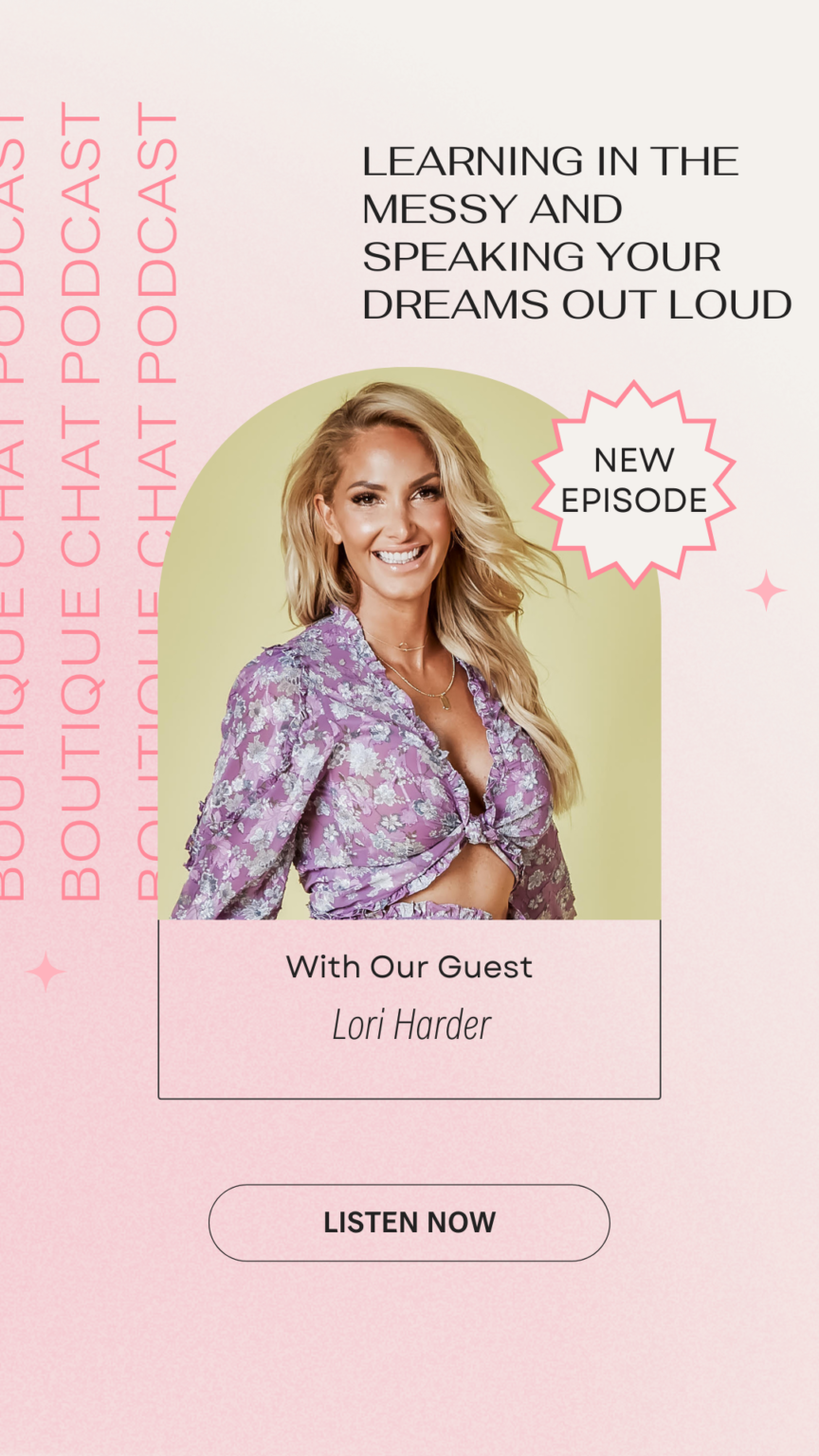 Favorite Quotes from Lori Harder
"It's mind-blowing what you can do in a year." – Lori Harder [6:15]
"If you don't tell people what you want to do, your dream is just your best-kept secret." – Lori Harder [11:25]
"Energy can expand time." – Lori Harder [26:30]
---
Resources Featured In This Episode:
---
Join the Hub for more training, information, and connections.
www.theboutiquehub.com/join
Use the hashtag #AskAshley on Instagram, or tag her at @ajalderson or @theboutiquehub to suggest topics for the podcast and let us know what you thought about this episode!
Do you love the Boutique Chat Podcast?! Subscribe to our podcast and after that, leave us a review on iTunes Apple Podcasts here!

Original Air Date: May 10th, 2022
Do you love the details of Learning In The Messy and Speaking Your Dreams Out Loud? Let us know what you think about our show and help spread the word about the #BoutiqueChat Podcast.
Recent Posts:
The Boutique Hub at Atlanta Apparel

The Boutique Hub Team can't wait to head back to Atlanta market with you all! There is so much going on so we want to make sure you're prepared. Here's what you need to know about the October 2022 Atlanta market…

Keys For Successful Boutique Planning

I know this time of year is when most of us are starting to think ahead about planning for the new year, so today I'm…

Small Business Owner Hacks

Being a small business owner is no easy job. Here at The Boutique Hub, we are dedicated to helping small business owners succeed with education, strategy, support, and community. Here are a few small business owner hacks to help you succeed!