Today on the #BoutiqueChat Podcast Janzen Tew, Founder of Denim and Velvet, joins us for Photography Tips for Boutique Owners. Denim and Velvet is a one-stop-shop for web design, print & digital advertising, social media, staging, and design. Janzen goes over all the steps needed to get incredible photos for your business. She goes over the best time to shoot, how to pose for photos, camera recommendations, and tips for editing. But that's not all, tune in to hear more!
>> EPISODE 277 – LISTEN NOW ON iTunes <<
Don't Have iTunes? Listen on Libsyn here
See the Full Boutique Chat Podcast Website here
MAIN POINTS:
---
Know your ideal customer. You can have one shirt styled and photographed a million different ways ,but it's about choosing what's the best way for your customer. 
When shooting product photography always make sure you have a clean background. You want to show the details and shape of your product. 
Keep your photos consistent. Use the same lighting, colors, and presets in all of your photos.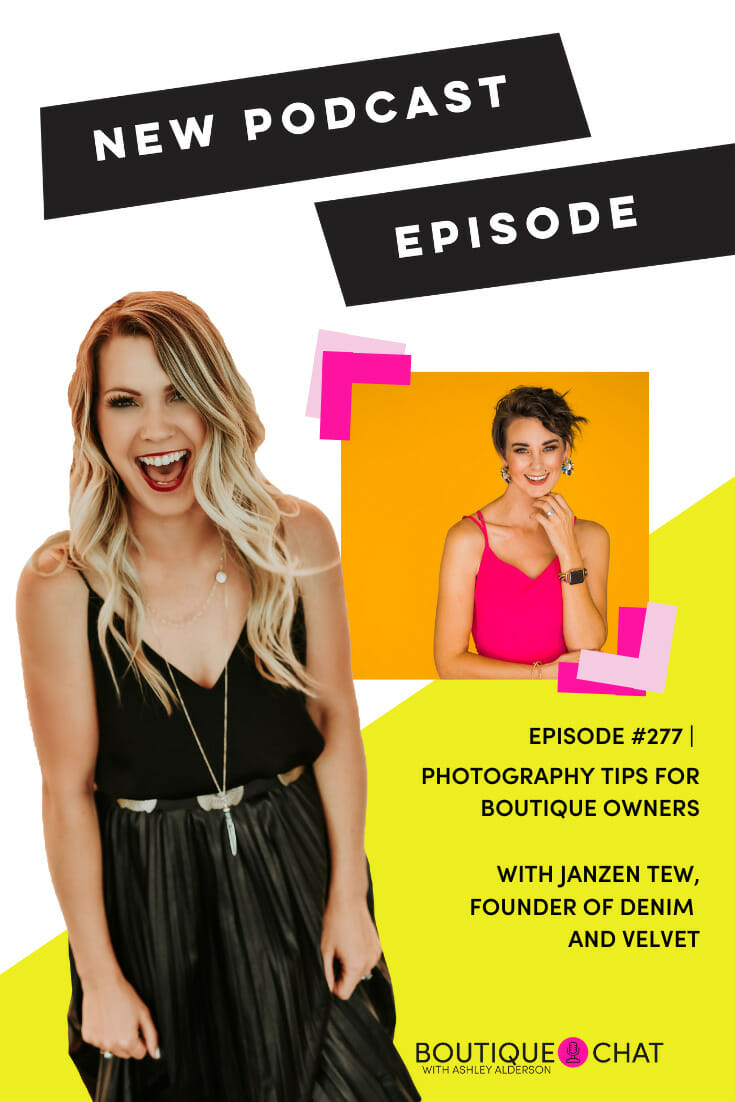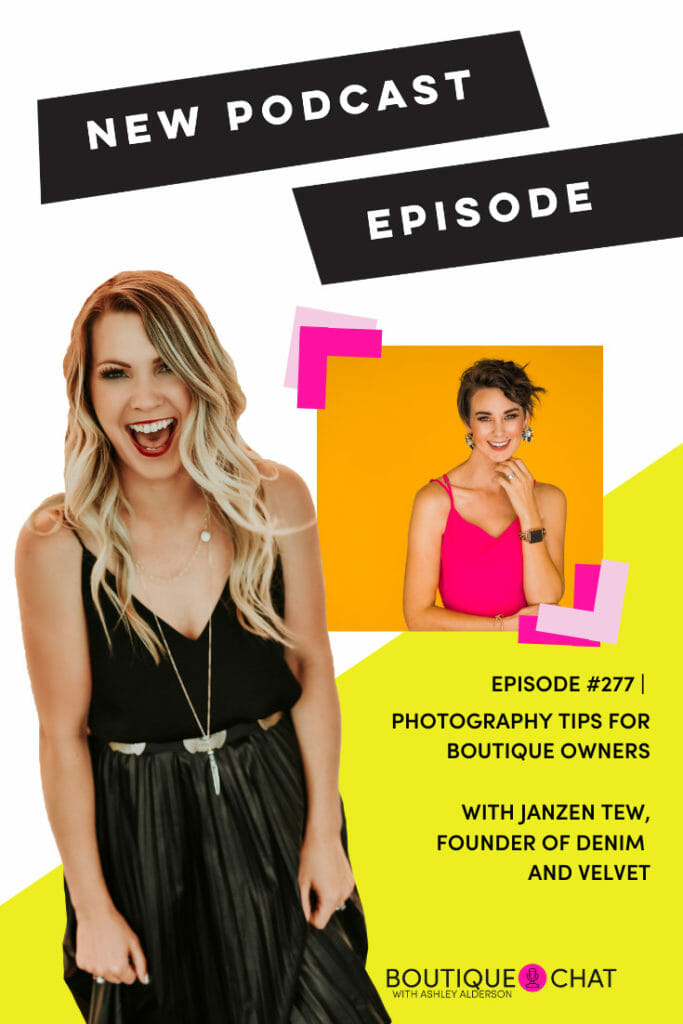 FAVORITE QUOTES:
---
"Be very conscious about your model, make sure it's someone that your customers will relate to." -Janzen
"The biggest thing is consistency. Consistency in the time of day you are shooting and consistency in the presets you are using." -Janzen
"There is nothing like great photography that sets you out in the mind of your customer." -Ashley
Where to follow and find Janzen:
Website: https://www.denimandvelvet.com/
Instagram: @rodeovogue & @denimandvelvet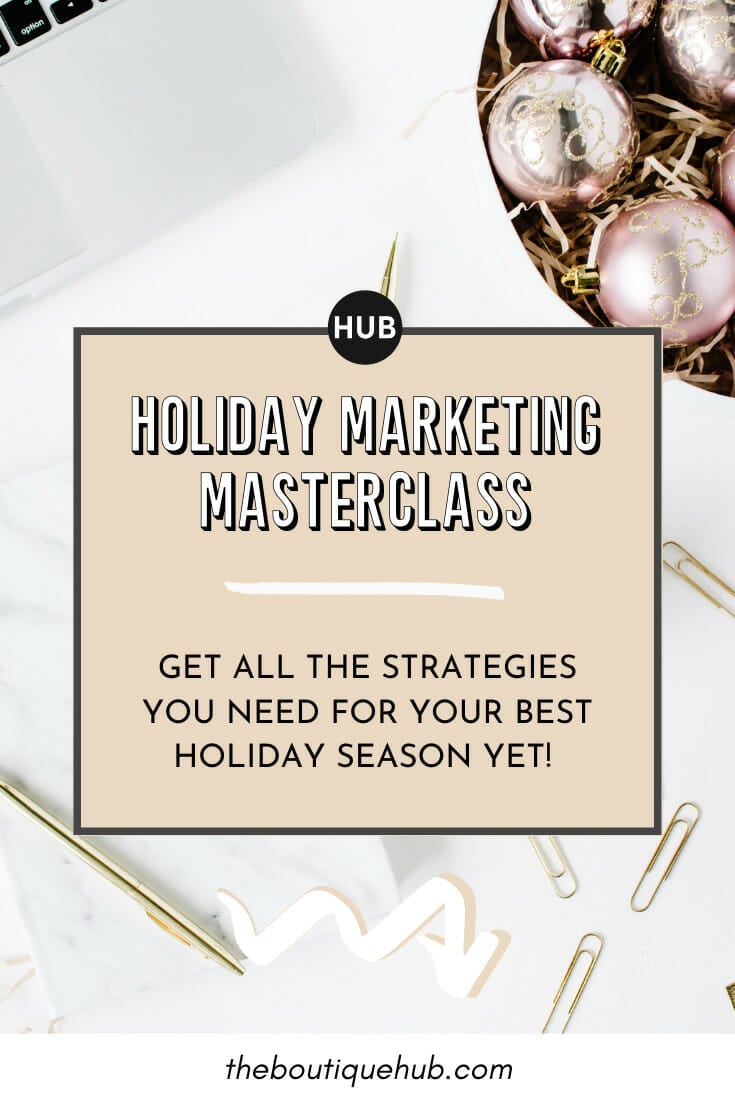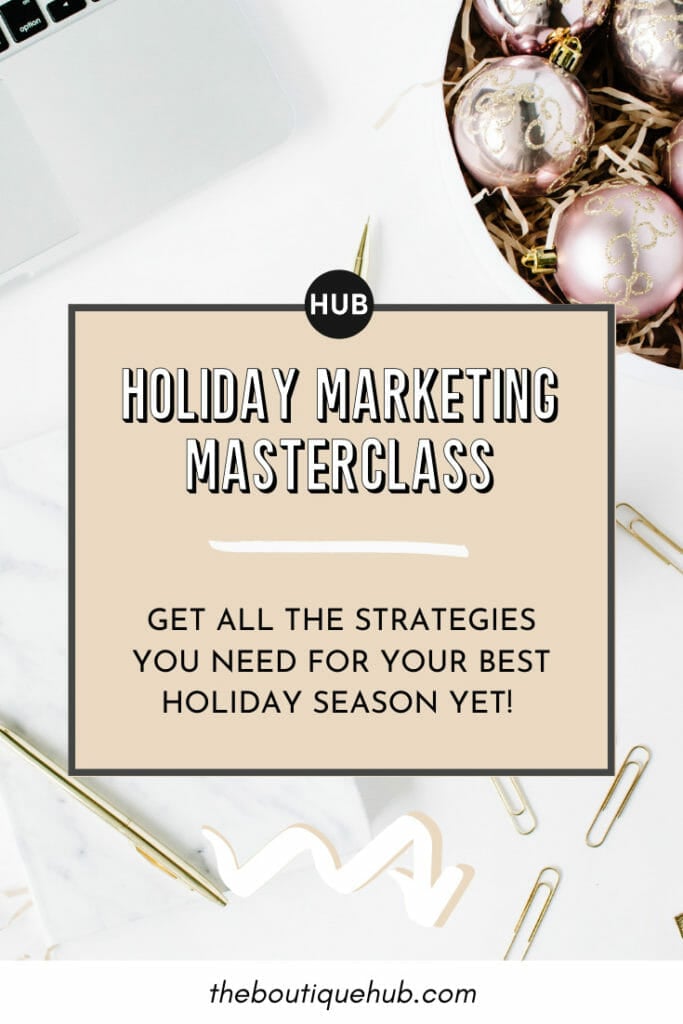 Join Ashley Alderson, Boutique Marketing Expert and Founder of The Boutique Hub to walk through 6 Key Areas to maximize this holiday season. 
From content planning, eCommerce, and events to profitable promotions, team training, and traffic….this is the most sought after Holiday training program online. And it'll impact your business all year long!
SIGN UP FOR EMAIL UPDATES ON OUR WEBSITE:
https://theboutiquehub.com/boutique-summit-2020/
Join the Hub for more training, information, and connections.
www.theboutiquehub.com/join
Use the hashtag #AskAshley on Instagram, or tag her at @ajalderson or @theboutiquehubto suggest topics for the podcast and let us know what you thought about this episode!
Want to be our listener of the week? Then Subscribe to our podcast and after that, leave us a review on iTunes Apple Podcasts here!
Original Air Date: September 22nd, 2020
Do you love the details Photography Tips for Boutique Owners? Let us know what you think about our show and help spread the word about the #BoutiqueChat Podcast.