Today Beth Leahy, Cheif of Operations at The Boutique Hub, and Ashley Alderson, Ceo of The Boutique Hub, give is the rundown on the 2020 Boutique Summit.  The Boutique Summit is the Boutique Retail Industry's Top Business Conference of the Year held June 7-9th, 2020 in Atlanta, GA with Atlanta Apparel. There you will find the proven strategies, tools, and collaborators to help grow your business in an ever-changing industry and social landscape! Today Beth and Ashley go over all the juicy details of this year's Boutique Summit and the story behind starting the largest boutique owner event in the world, plus some fun lady talk!

>> EPISODE 248 – LISTEN NOW ON iTunes <<
Don't Have iTunes? Listen on Libsyn here
See the Full Boutique Chat Podcast Website here
Main Points:
---
We are all about community over competition. Not only is this an opportunity to learn, but to also form valuable relationships.
At the 2020 Boutique Summit, you will hear from over 40+ speakers, top industry experts, and be apart of hands-on breakout sessions!
There is not one golden ticket to success, otherwise, we would all be the same. That is the beauty of being your own person and finding what works best for you!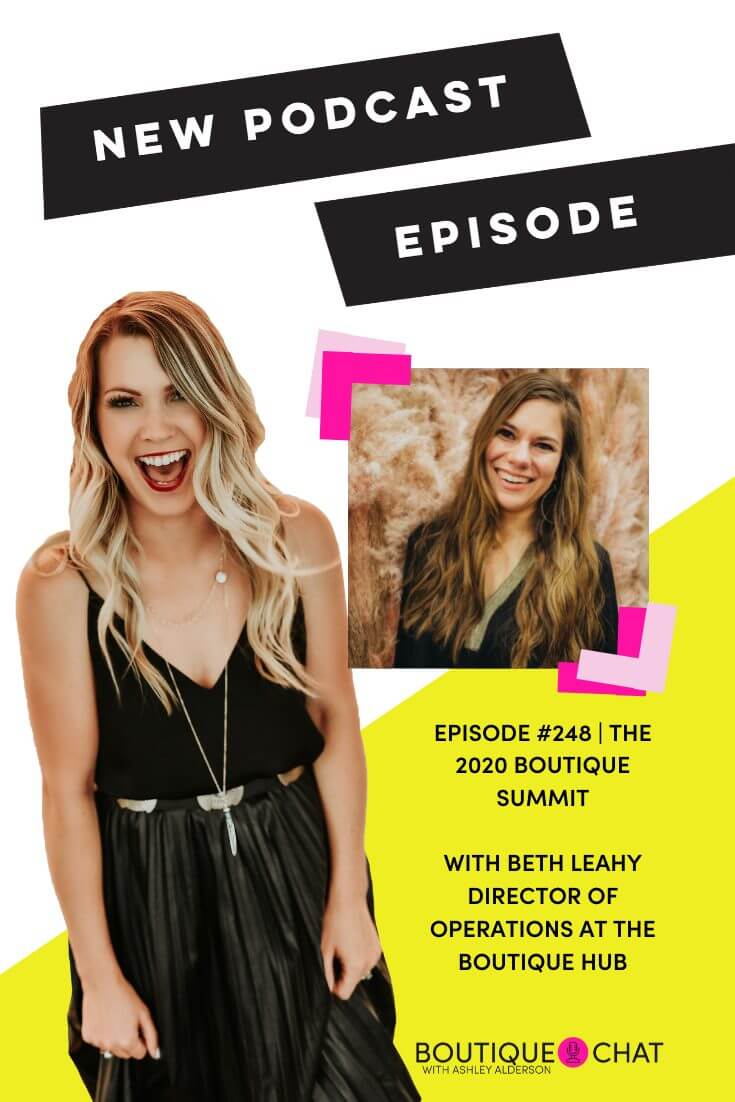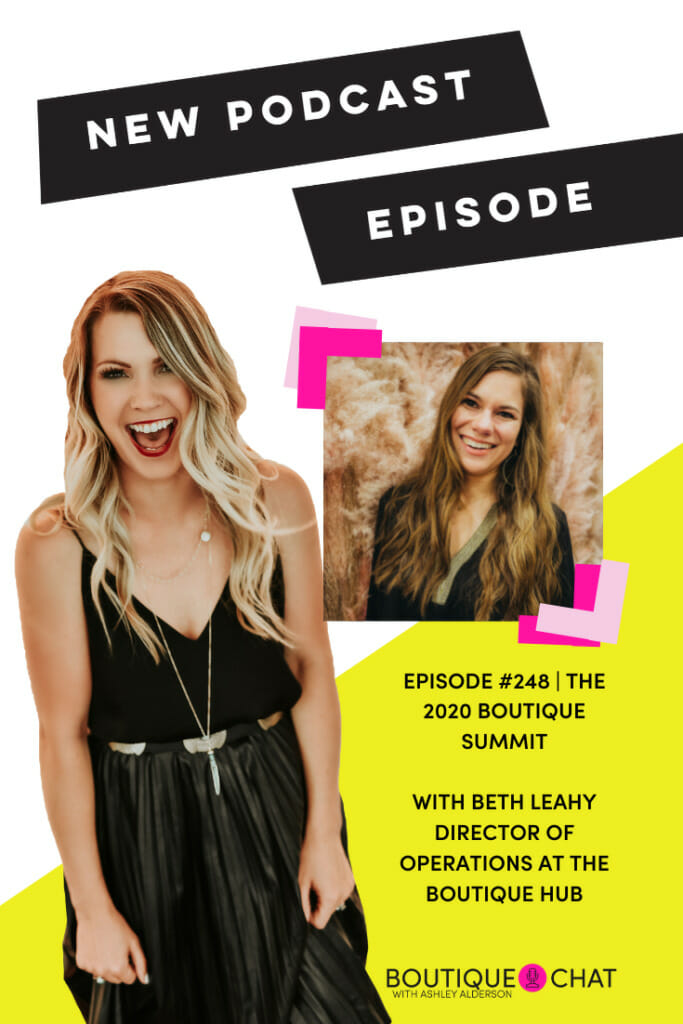 Favorite Quotes:
---
"You come for the strategy right, but part of it is the emerging experience od being in the presence of others who are inspired around you and just feeling that literal physical energy around you. It's so inspiring and so powerful." -Ashley A
"I think being a successful entrepreneur is being a life long learner." Ashley A
"It's a time to help celebrate you and what you've accomplished and all of those who helped you get there!" -Beth L
Follow Beth Leahy on instagram @bethmleahy!
SIGN UP FOR EMAIL UPDATES ON OUR WEBSITE:
https://theboutiquehub.com/boutique-summit-2020/
Join the Hub for more training, information, and connections.
www.theboutiquehub.com/join
Use the hashtag #AskAshley on Instagram, or tag her at @ajalderson or @theboutiquehubto suggest topics for the podcast and let us know what you thought about this episode!
Want to be our listener of the week? Then Subscribe to our podcast and after that, leave us a review on iTunes Apple Podcasts here!
Original Air Date: Marth 3rd, 2020
Do you love the details The 2020 Boutique Summit? Let us know what you think about our show and help spread the word about the #BoutiqueChat Podcast.
Related Posts: