Today on the Boutique Chat Podcast Lucinda Cross, entrepreneur and author, joins us for The Power Of Vision Boards. Lucinda is the CEO of two personal and professional development companies, Activate Worldwide LLC. and Activate Your Life.org. Today she goes over topics such as how to turn your vision board into reality, unlearning habits and thoughts that don't serve you, and understanding the power of color. You won't want to miss out on this episode's life-changing tips! Tune in now!
>> EPISODE 275 – LISTEN NOW ON iTunes <<
Don't Have iTunes? Listen on Libsyn here
See the Full Boutique Chat Podcast Website here
MAIN POINTS:
---
Give yourself permission to unlearn. Some habits and thoughts need to be unlearned so you can grow. 
BELIEVE that what you are putting on your vision board is going to happen.
There is so much power in positive visualization. But don't keep it in your head, the magic happens when you bring out the paper and markers!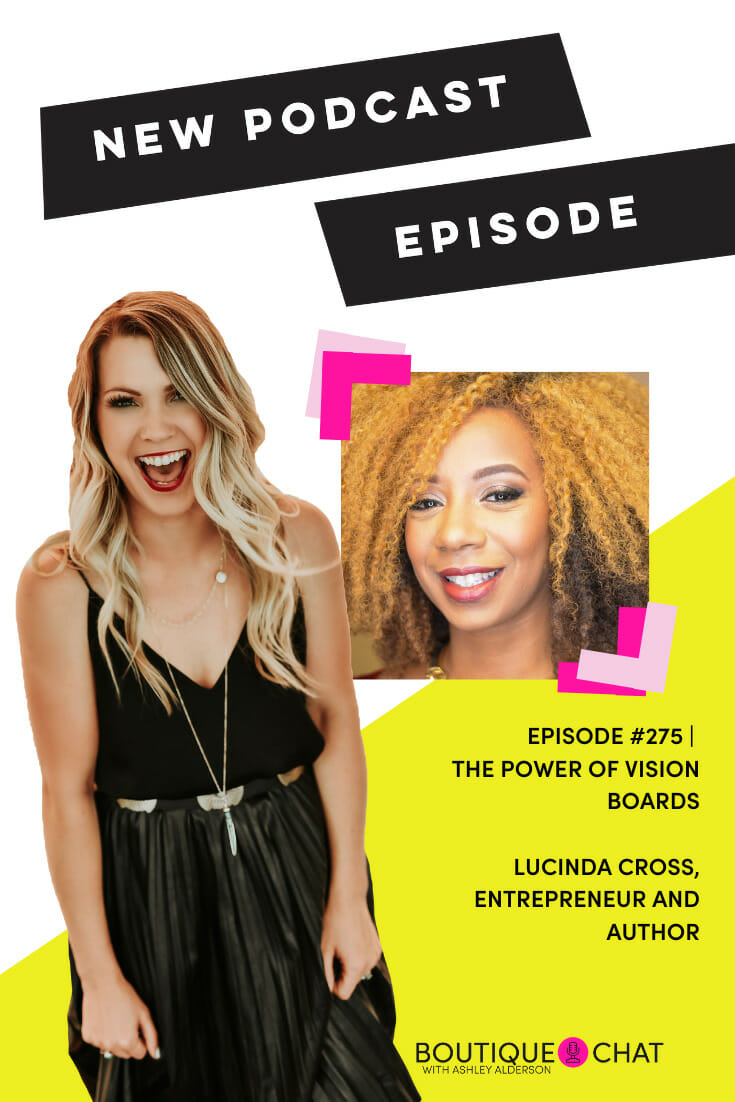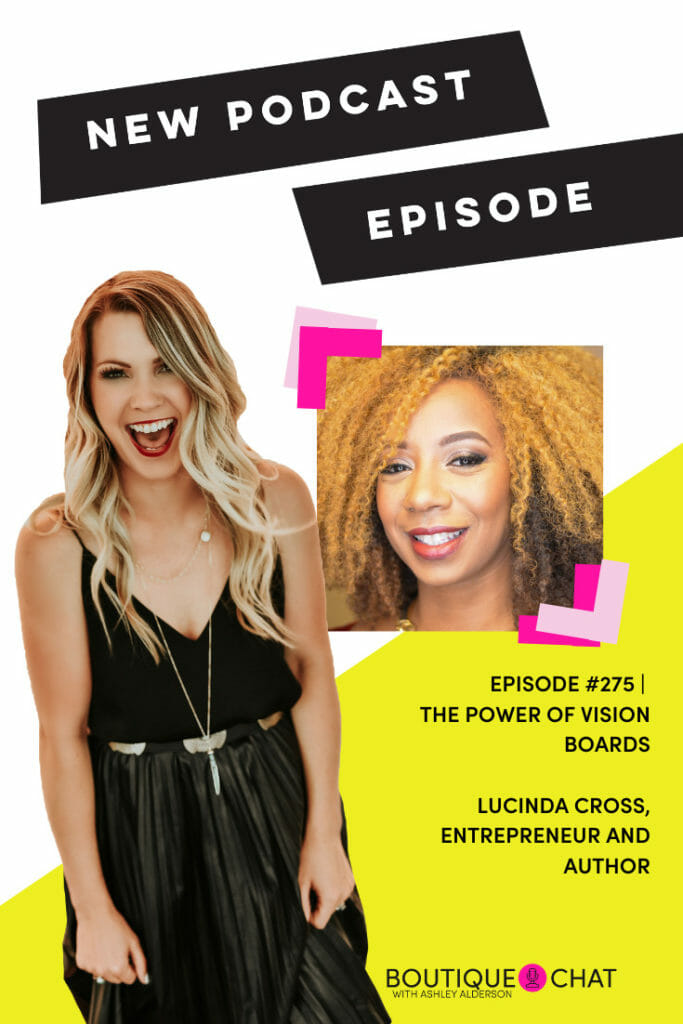 FAVORITE QUOTES:
---
"There is a purpose for us every single day and it's not something you have to find. Your purpose can shift every day." -Lucinda
"Give yourself permission to unlearn. There are some things that I don't know that I need to know in order to grow." -Lucinda
"Keeping it simple is the key. Overthinking it is not the way." -Lucinda
Where to follow and find Lucinda:
Instagram: @lucindacros
Website: http://lucindacross.com/
Book: https://www.amazon.com/Big-ASK-Everything-Desire-Deserve/dp/0990562921
SIGN UP FOR EMAIL UPDATES ON OUR WEBSITE:
https://theboutiquehub.com/boutique-summit-2020/
Join the Hub for more training, information, and connections.
www.theboutiquehub.com/join
Use the hashtag #AskAshley on Instagram, or tag her at @ajalderson or @theboutiquehubto suggest topics for the podcast and let us know what you thought about this episode!
Want to be our listener of the week? Then Subscribe to our podcast and after that, leave us a review on iTunes Apple Podcasts here!
Original Air Date: September 8th, 2020
Do you love the details  The Power Of Vision Boards? Let us know what you think about our show and help spread the word about the #BoutiqueChat Podcast.
Related Posts: