Dropshipping has become increasingly popular within the boutique industry recently. With an uprise in interest, we are here to break down what exactly is dropshipping, and how to be successful with it as a boutique owner. Let's get into the ultimate guide to dropshipping for boutique owners.
Dropshipping for Boutique Owners
What is Dropshipping
Downsides to Dropshipping
What to Watch Out For With Dropshipping
Things to Keep in Mind
Dropshipping Companies Worth Investigating
What is Dropshipping
With dropshipping, the retailer doesn't see or handle the products sold.
Instead, the customer places an order with the retailer, usually online, and the retailer then places the order with the product's supplier (aka – the drop shipping company) who ships it to the customer.
Dropshipping is attractive to online merchants because:
there are no warehousing or investment costs.
they aren't stuck with inventory that doesn't sell
suppliers pick, pack, and ship orders
Downside to Dropshipping
Profit margins are smaller because the drop shipper is responsible for order fulfillment and warehousing. The retailer's reputation is also at the mercy of these suppliers, who are responsible for the efficient delivery of the products that hopefully are consistent with the retailer's brand and expectations for selling the sight unseen product.
What to Watch Out for With Dropshipping
Avoid focusing on the sale and not the customer. Remember that customers aren't loyal to the price they are loyal to you and the products you serve them. If you drop the ball on the quality they will be less likely to do business with you in the future.

Remember – a drop shipper isn't as concerned about YOUR customer as you are! You, the retailer are the drop shippers' customers – they are only concerned about you! It is up to you to keep your customer happy!

Shipping costs can vary depending on where your items are coming from and where they are going. Avoid making it confusing for your customers, going with a FLAT SHIPPING rate is the best practice to keep your customer satisfied and reduce confusion.
Be realistic with your shipping dates – ultimately you are not in control of shipping with any drop shipper. Therefore, it is better to underpromise and over-deliver than to give false hope!
Protect yourself and your business with a contract. Avoid doing dropshipping with individuals or businesses who don't use contracts. We want to trust everyone and assume they always have our best interest at heart, however that is not always the case. Be in agreement with your vendors, set expectations (in written form), and hold each other accountable.
Returns can be tricky and mistakes will be made – it is important that you offer the best customer service possible to avoid frustration for your customers. If you are issuing an exchange or a refund get confirmation numbers from the drop shipper to confirm transactions. Do the leg work for the customer, after all, they think they are doing business with you, rather than a drop shipper. Be prepared before a problem happens! Build this into your standard operating procedures. Customers have a million places to shop from, don't let your lack of planning reduce their trust in you!
Look out for Copyright and Trademark-protected products! Again, you are not in control of what they are shipping and some DS actually load things onto your site without your knowledge. Be aware of everything that is going on on your site. If you want to sell protected items on your site, then do your homework, and pay the fees to be legally allowed to profit from these items. Otherwise, be prepared to pay the fines and ultimately be shut down.
Being forgettable. Remember with drop shipping, the product is delivered to your customer from the vendor, not from your store. Therefore, your brand identity can get lost. It is important to deliver consistency and remind your customers who you are and what you stand for at all times. Don't allow your identity to get lost by using a drop shipper.
Things to Keep in Mind with Dropshipping
Don't forget about Seasonal Goods from drop shippers. This is a great way to offer what is holiday decor, t-shirts, fan gear, or activities without risking getting stuck with an overstock of items. Often, retailers fail to capitalize on seasonal goods, and dropshipping is a great opportunity to be visible in this space.
Avoid taking the easy way out! Be different – don't copy and paste the vendors' product descriptions! Get creative when drop shipping! Avoid using stock photos provided by the vendor. Remember, you are not their only client and you don't want to look like everyone else. Be YOU, be noticeable, be unique. The more effort you put into your products the more likely you will be to get noticed! Also, remember that google is very smart and it is less likely to show something to a customer that is copied and pasted over and over again. Yes, use keywords but don't get flagged for benign a copycat. Thus more views, more buyers.
Don't get in a RUSH! Success doesn't happen overnight (in most instances). Drop shipping just like any other part of your business is going to be a learning experience. With every company you work with, learn what works for you and what doesn't. Avoid putting all your eggs in one basket!
Dropshipping Companies Worth Investigating
It is hard to say which dropshipping company is best, there are many factors to consider:
Is what they are selling in line with your brand?
Do they offer samples so you can see the product beforehand? (Is that important to you?)
Do they offer the size range you want?
Do their prices, business model, and shipping times work for you?
That being said, The Boutique Hub members have used many different companies and a few of them have come up consistently as being good to work with.
Avenue Shops
Boutique Tree
Darling Dropship
No Ship Drop Ship
Trendsi
*certain brands also offer drop shipping their products.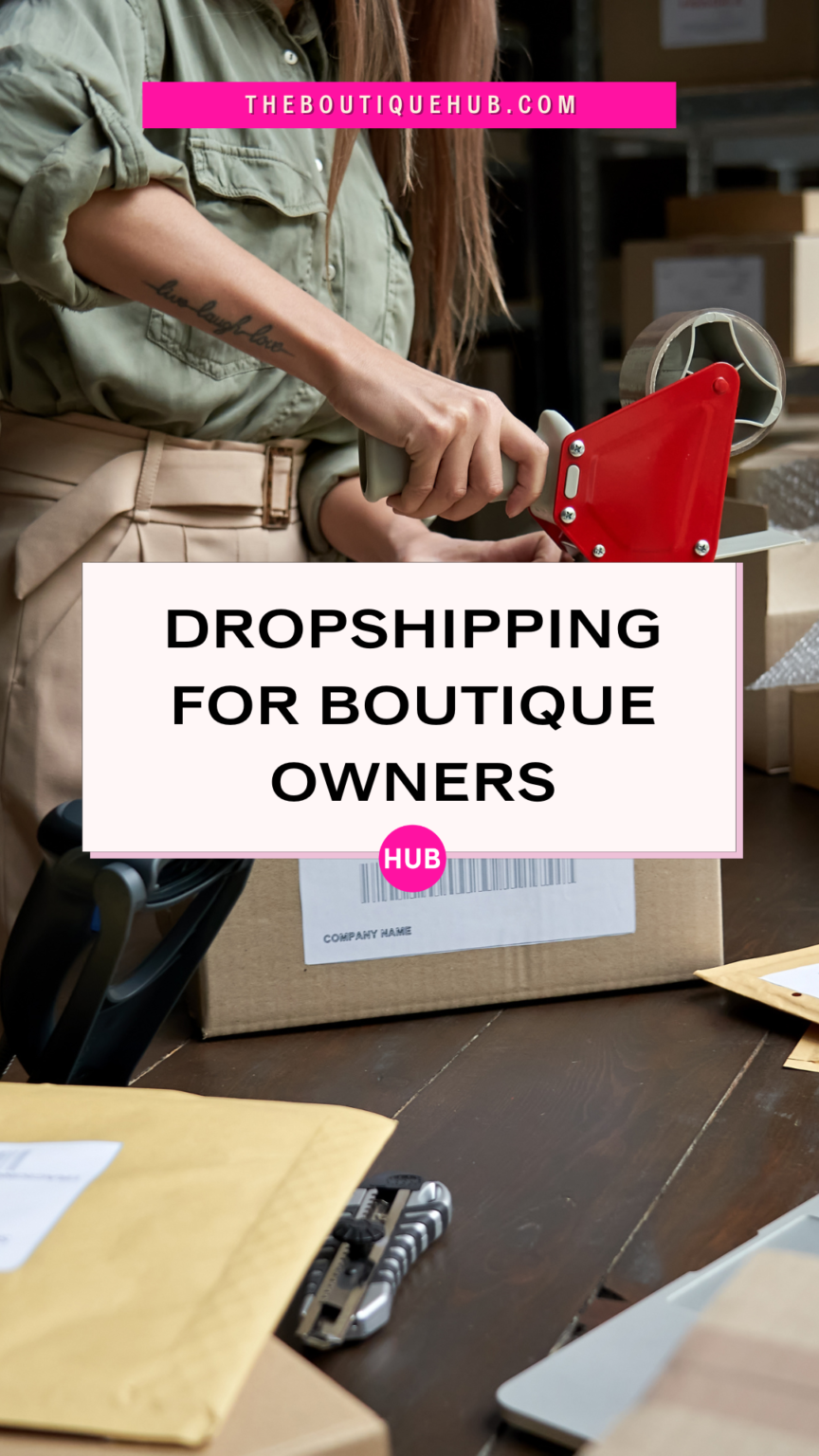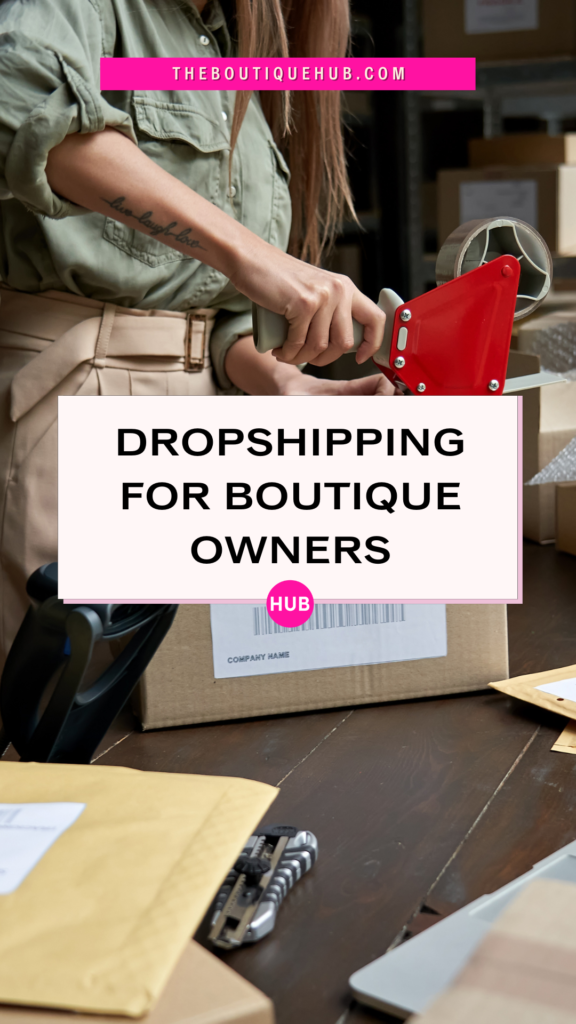 How can I grow my drop shipping business?
Watch your analytic tools to help understand who your customers are and how to reach them. 
Improve site usability with professionally designed templates, paying special attention to customer support, abandon cart alerts, and showing new or reintroduced products often. 
Encourage customers to leave reviews of products to attract other shoppers. 
The Hub Can Help
By joining The Boutique Hub, you'll have access to our extensive training library, niche Facebook groups where you can ask questions and get support from people in the industry, watch our weekly live trainings from industry experts and so much more. We do what we do for YOU.
Free Download – Why Boutiques Succeed and Fail
Are you considering starting an online or dropshipping boutique and need cold hard facts?
Are you new to the business and can't get enough traffic to your site to generate a profit?
Have you been in business for a bit and find yourself struggling with the current retail environment?
Did you have a successful social selling platform and have recently been handicapped by Facebook?
Are you a successful boutique owner that has learned ways to navigate your success and want to give back?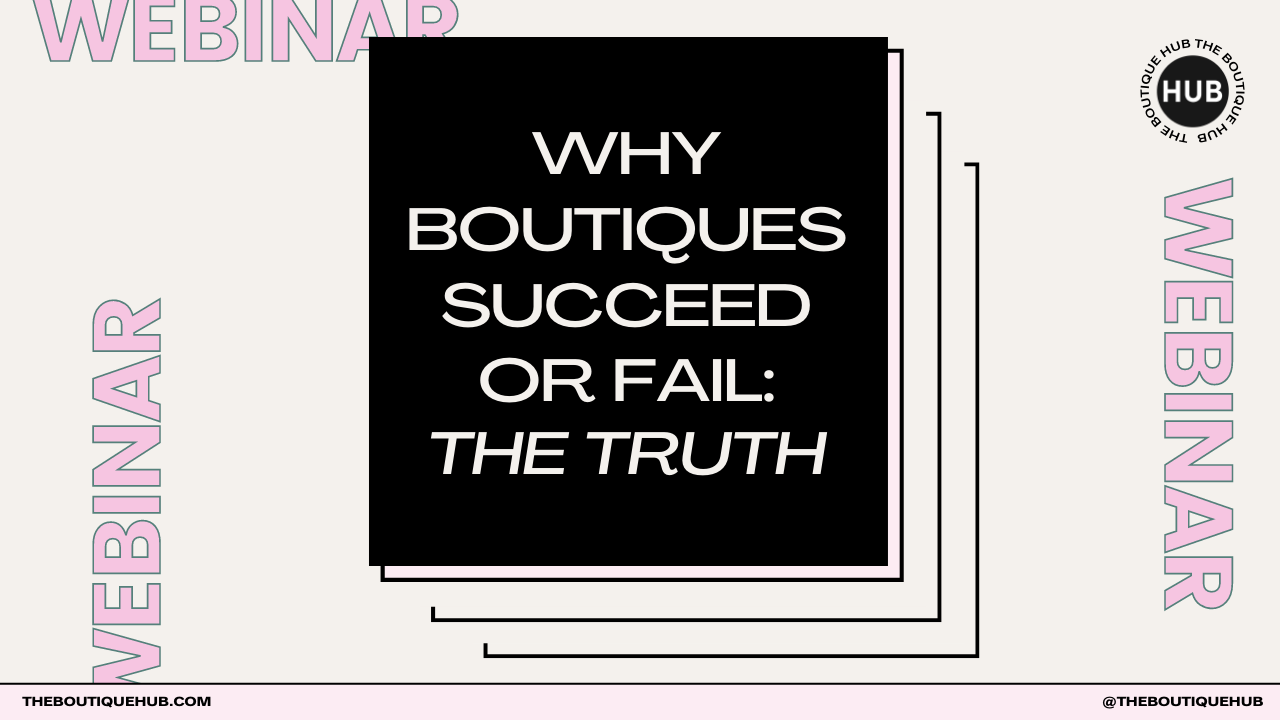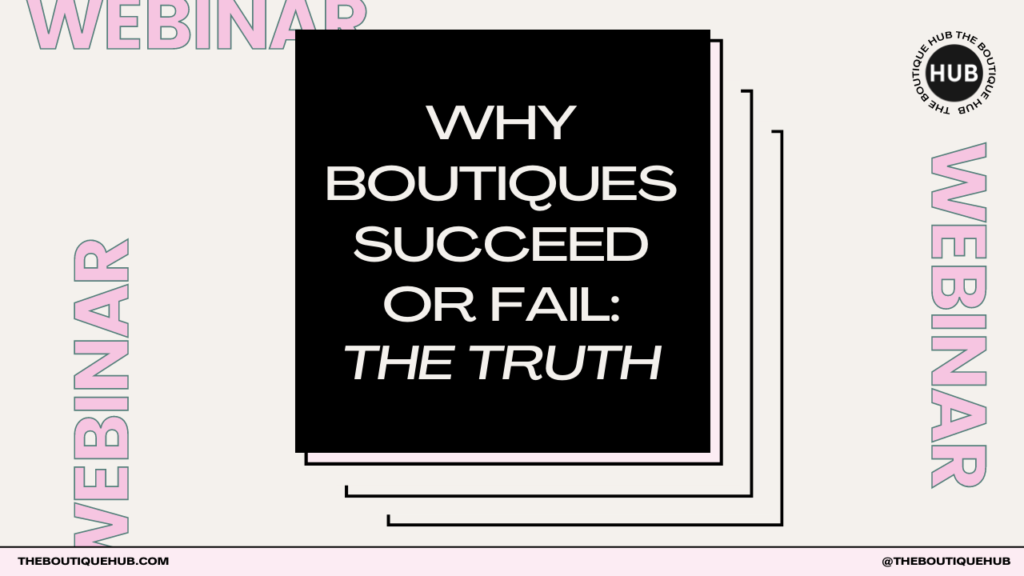 We hope you loved our article on The Ultimate Guide to Dropshipping for Boutique Owners. How else can The Boutique Hub help you grow?
Get more information on growing your business by joining The Boutique Hub where we have tons of training, information, and most importantly, connection! Try out our service for a month, cancel anytime.
Follow along on Instagram @theboutiquehub!