The Boutique Hub is the world's largest community of boutique owners, connecting them to every tool, resource, and business strategy they could need. No matter the size of your boutique, the education, guest experts, vetted wholesalers for boutiques, exclusive discounts and social media strategy will grow your boutique today.
Let's get into the details of who we are and how we can help you grow a thriving, profitable business, and connect with others in the industry.
Who can join the Boutique Hub?
A Boutique Hub membership is for retailers of all shapes, sizes, and demographics, wholesale brands, and industry service providers.
What does the Boutique Hub offer?
Education
Learn how to save time, boost sales, grow your social channels, marketing tactics, SEO, run ads, manage employees, gain online or in-store traffic, manage your warehouse, websites dos & don'ts, be productive, cut costs, move inventory, contract with influencers, and so much more.
Our 1000+ hour expert Training Library is packed with downloads, how-to's & videos to maximize your business .. NOW! Plus our community groups are filled with live pop-up trainings, tips, and insights – daily!
Brands
Discover new vetted wholesale brands, vendors and manufacturers for boutiques!
We're creating a better way for the industry to shop wholesale in a single, convenient location with vetted and trusted brands. Look for a new shopping experience, fall 2021.
Community
We believe in community over competition & that, together, we are building a stronger future for return.
Our members have made life-long friendships, collaborations, and connections inside our membership. Join us! We'd love to meet you!
We desire to re-imagine wholesale shopping. With our ability to foster relationships between retailers & wholesalers, both online & in-person.
Podcast
The Boutique Chat Podcast is all about real-life strategy, growth hacks, business insight, and proven marketing advice for fashion industry businesses. Join The Boutique Hub's Founder, Ashley Alderson, as she talks with retailers, boutiques, wholesale brands, vendors, and industry insiders to bring you the proven, juicy secrets that have helped companies rise to the top, all while balancing life and business.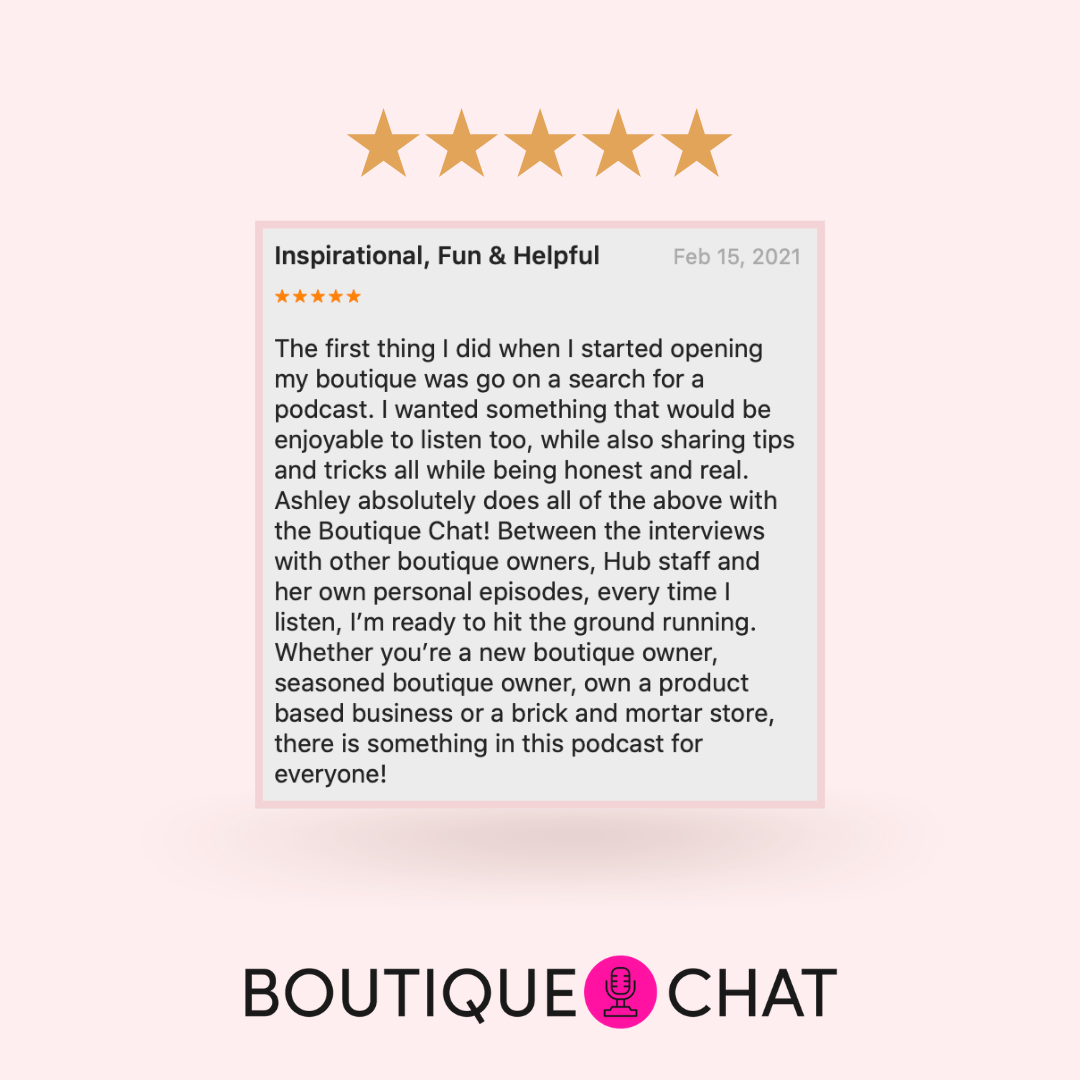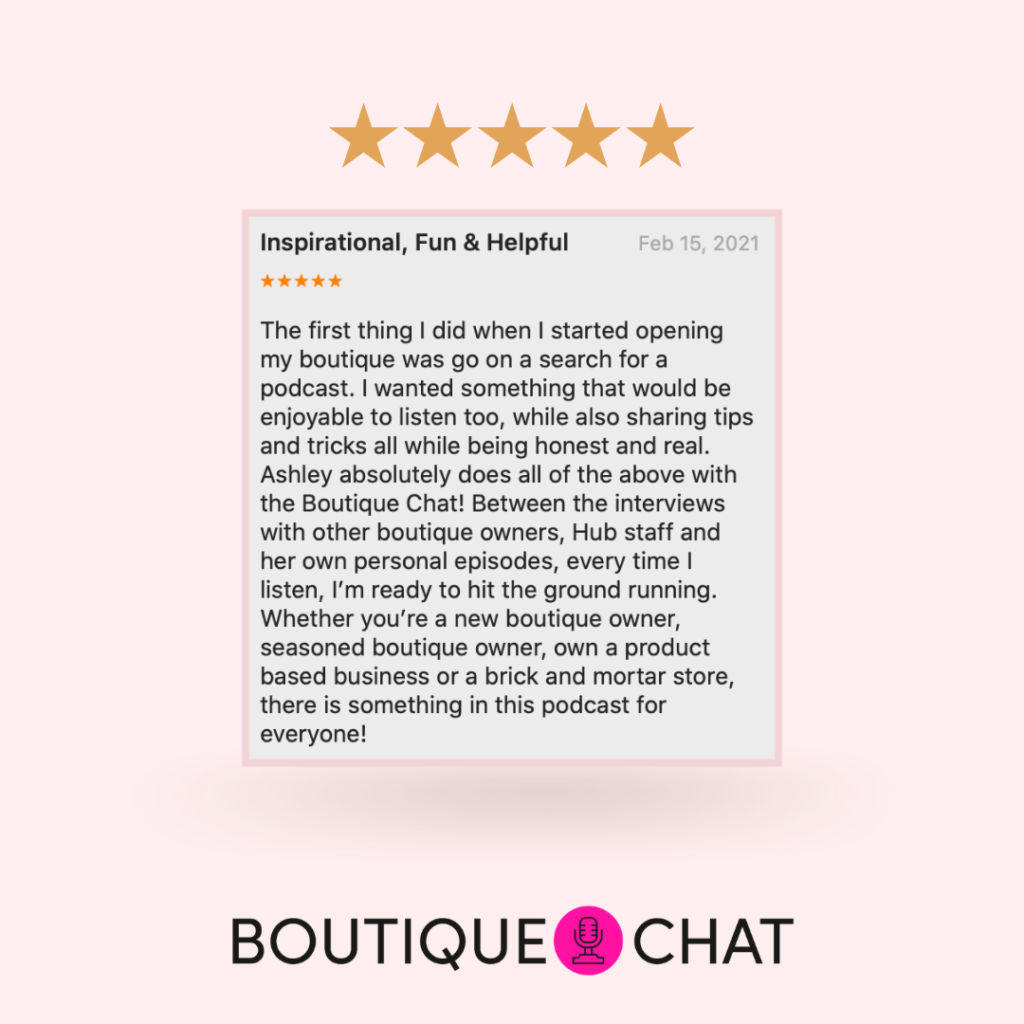 Learn how to grow your boutique business, position your wholesale brand, collaborate with influencers and companies in the industry, and find the latest tools and resources to reach the next level in your business.
Events
Attend the industry's only conference of its kind, The Boutique Summit, plus other events like our Western Summit, LA Experience for those in our Retail Bootcamp Course, and at Market Meet-ups.
Discounts
Raise your hand if you like to save! Our team has negotiated over $3000 in member discounts and perks for you with Comment Sold, Sezzle, Hertz, FedEx, Office Depot, and more!
Market discounts with brands is also a major perk to being a Hub member!
Inventory Exchange
Have extra inventory you need off your hands or need inventory asap? Sell and buy at wholesale cost with other boutique owners in the only vetted boutique inventory exchange group under our membership.
Shop the Best Boutiques
Share your boutique & products with thousands of shoppers worldwide on Shop The Best Boutiques. Get discovered by style, location or search, with new traffic to your store with no commissions shared.
---
How else can The Boutique Hub help you grow?
Try out our service for a month, cancel anytime. Or use one of our free tools to get started below!
Get more information on growing your business by joining The Boutique Hub where we have tons of training, information, and most importantly, connection! www.theboutiquehub.com/join
Follow along on Instagram @theboutiquehub!
Want more?
31 Days of Daily Social Media Content
Mix these around and do in an order that works for your store. Keeping your content current and a nice mixture of sale, engagement, and brand awareness posts is essential in growing your business and social media accounts.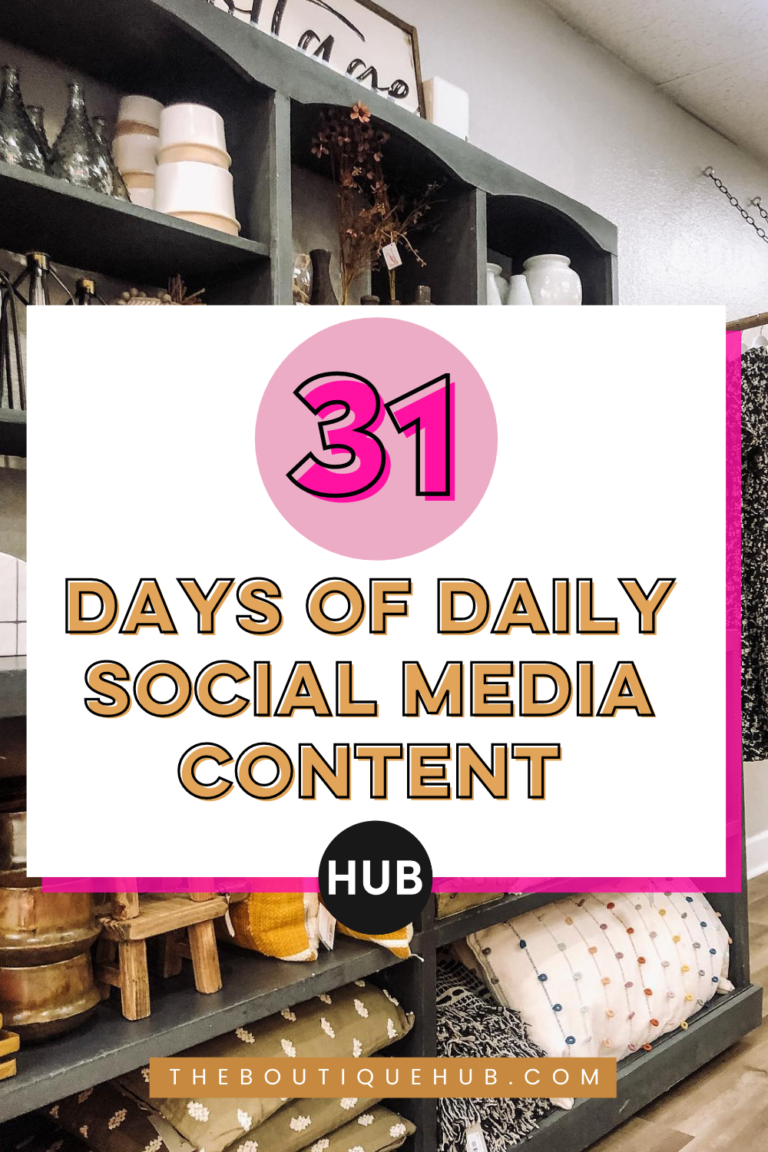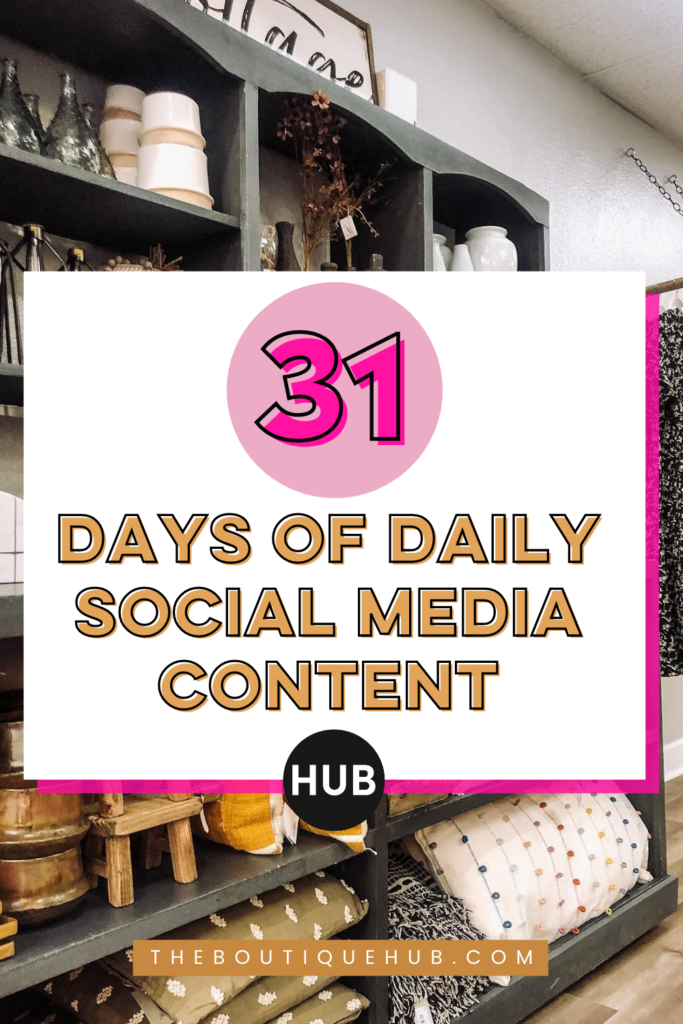 Use this 31 days of social media content guide to spark new engagement, traffic, and sales this month!
Recent Posts:
Holiday Season Playbook: 5 Pro Tips for Boutique Success

As boutique store owners, you understand the importance of gearing up for the retail extravaganza that is this entire holiday season. That's why we've curated a set of exclusive tips, tailor-made for boutique stores like yours. Whether you're a seasoned pro or diving into this season for the first time, our expert advice is here to empower you!

Boutique Owner's End of the Year Checklist

We are so excited to be bringing you some tips to make rolling into 2024 the smoothest transition yet! Here you will find our Boutique Owner's End of the Year Checklist, filled with info on taxes, inventory, and more!  

Dig In and Do The Hard Thing with Anais Almazan, Pretty & Pink Boutique

Anais Almazan, founder and owner of Pretty & Pink Boutique, shares her story from growing her business to building a true community.