We're back in the swing of things, introducing the members of our first-ever Boutique Hub Style Team. In case you missed it, the Style Team is a featured group of fashion bloggers and influencers, who will be collaborating directly with The Boutique Hub and it's member boutiques/brands, helping us to bring attention to small brand and boutique fashion on a much broader scale! But before these fashionistas start in on collaborating with our member boutiques and brands, we wanted to make sure you got to know each of our Style Team | Season 1 members on a more personal level!
Tonight we're focusing in on one of our western fashionistas, Meghan Tietze–and we have a feeling you're going to love her just as much as we do!
Hi, Meghan! Tell us a little bit about where you're from, if you have a job other than influencing, your family, etc.
I was raised in Castle Rock, Colorado, but currently live in the Oklahoma Panhandle. I moved around A LOT while in college, but was always drawn back to my favorite little college town, and that's what brought me here. I work full time at OPSU in the counseling and testing center aside from working the Salt Lick Sisters business. I have two younger brothers; one of which is in the Coast Guard in Alaska, one of which is going to school in Colorado. Alix (my Salt Lick Sisters business partner, and fellow member on the Style Team | Season 1) isn't actually my sister, but she sure feels like it!
How would you describe your personal style?
My personal style is very vintage and very western. I don't like to pay too much attention to the trends and I like to be comfortable (unless we're talking about piling turquoise around my neck). I love the western fashion industry because I think what makes something western automatically makes it a classic. I want to have a timeless style and be wearing something that no one would've guessed or put together themselves. One-of-a-kind pieces are my favorite!
What's your favorite aspect of fashion?
I love fashion for the creativity it allows people to bring into their lives. Regardless of your background, age, interests, etc., you can express yourself through fashion and how you chose to present yourself. Your personal style is a glimpse into your life, and I think that's a beautiful thing.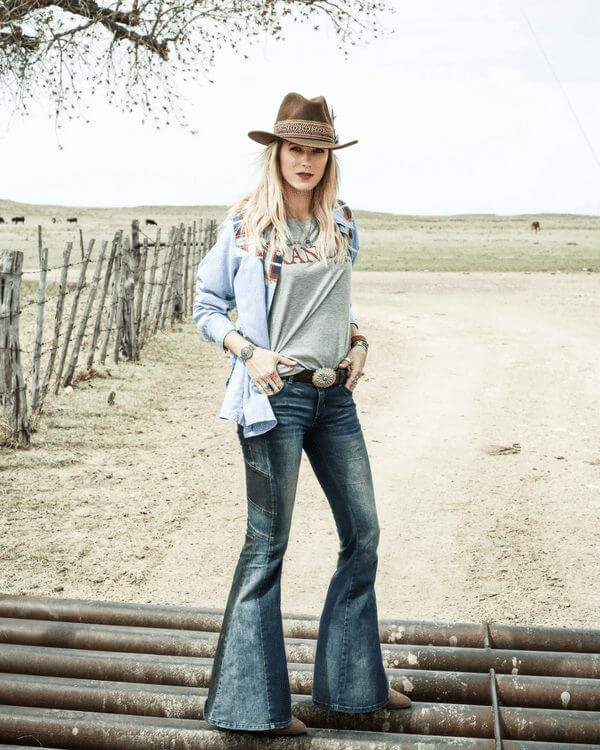 What's currently your favorite piece in your closet?
It's so hard to chose just one…but if I had to, I think I would pick my vintage lace DD Ranchwear midi skirt.  It is so beautifully crafted and moves like a dream.  I love styling and wearing that skirt.
Who is your biggest style inspiration, or style icon?
I take inspiration from a lot of different aspects, people and otherwise.  Being in the western fashion industry, you get exposed and in contact with so many talented ladies and can draw inspiration from all of them.  However, I would say my biggest style icon would be June Carter Cash.  I love that she dressed how she wanted, whether that be out at the cabin, or on stage.  Her muted western flare combined with masculine touches here and there are so relatable to me!
More importantly, dark or milk chocolate?
Dark. The more bitter, the better!!  (I wonder what that says about me…)

What's your favorite way to unwind?
I love to cook.  Cooking and baking for others is a big part of how I show I care for someone.  Experimenting in the kitchen and throwing things together always helps me destress.  The sense of accomplishment you receive when you've spent all that time and effort on a dish/pie/whatever, and the people you've cooked for love it – it just can't be beat.
What's your favorite fashion season?
SUMMER!! Rodeo season is the best season for western fashion because you can be seen in your style and the weather makes your closet so versatile.  
What is your favorite social network and why?
Instagram for Salt Lick Sisters and Pinterest for just about everything else.  I love Instagram because it is so user-friendly and all about the images.  A fashion blogger needs to share her style and outfits first and foremost, so Instagram is the perfect platform for that.  However, I do have a slight Pinterest addiction.  If I'm looking for a recipe substitute, home inspiration, a new Bible study, or organizational tips, I always turn to Pinterest first.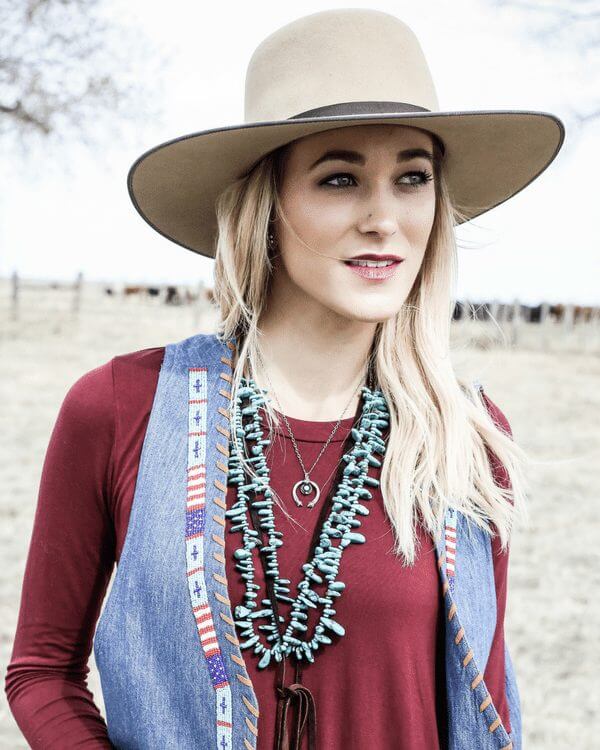 If you could give advice to a young person, interested in fashion, and maybe one day hoping to become a blogger or influencer – what would you tell them?
Be true to yourself.  What makes someone interesting is who they really are.  I heave heard time and time again that my success stems from staying genuine to who I am and what my style is.  Don't ever be afraid to wear something you love because no one else is doing it.
How long have you been a blogger or fashion influencer?
The Salt Lick Sisters is about to be 6 months old, so still pretty new!
How did your blog get started? Any fun stories behind your name?
Alix and I LOVE fashion and finding great pieces, always have.  We followed a lot of the western fashion girls on social media and would always tell each other that we could do something like that.  One day, I was sitting at work during the NFR and just decided to take the leap and create our Instagram.  It's been a whirlwind ever since!  As for the name, we wanted something different (as always), that reflected our ranching backgrounds.  I literally just googled "old cowboy terms", and "salt lick" came up.  I love our name and wouldn't ever change it!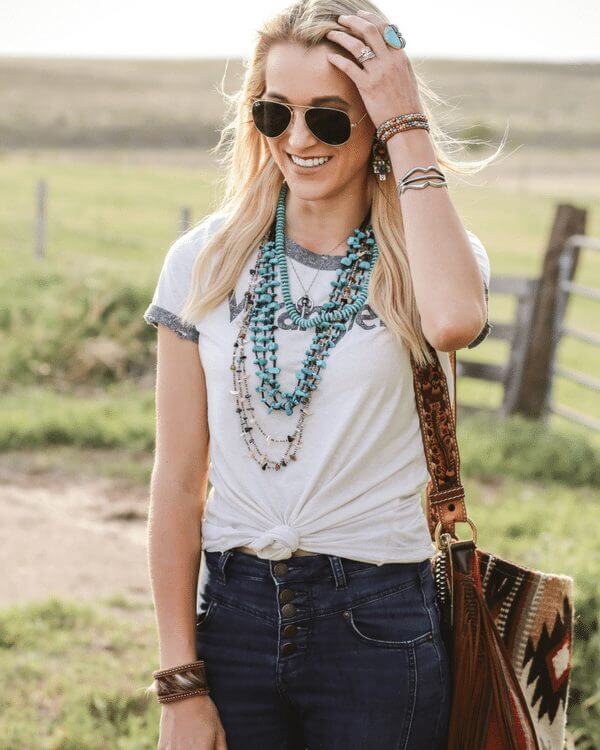 What are your favorite trends at the moment?
I adore dusters and denim bells, but what I get real excited about is the return of hats!  I have a couple vintage felts from my grandad that I got to pull out thanks to all the awesome influencers bringing them back in.  Obviously, I had to get a couple new ones as well.
If you styled a celebrity– who would it be?
A young Tammy Wynette; our styles mesh so well.  I would've loved to get into her closet in those days!
Which boutiques do you like to shop with, and why boutiques?
I love to shop with boutiques that have a little quirk and funk to them.  I'm always searching for something different, and I believe that because boutiques are on a small scale, they are much more likely to have styles outside of what is "trending" at the time.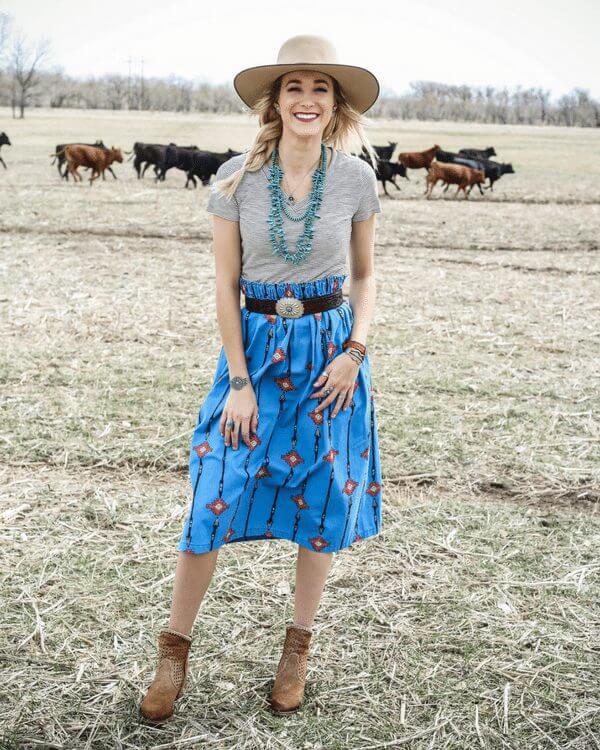 We just absolutely adore Meghan, and are so excited to work with her this season! We know you'll want to be following along on both her personal Instagram, and the Salt Lick Sisters account.
Throughout the rest of this month, we'll be individually introducing each of our Style Team members so you can get to know them a little better–be sure to keep your eyes peeled!
If you want to shop the boutiques our Style Team will be working with, you can find a boutique either near you, or by your personal style preference, right here on our site! We are the go-to Hub to find fashion that fits you best! You can shop the site, or get on the list girl, we'll send you the latest styles, discoveries and boutique deals as we find them!
Last, but absolutely not least, if you're a boutique or brand who is a member of The Hub, and is interested in working with our Style Team, follow this link to learn how!