Unless you run a brick-and-mortar store, the term "visual merchandising" may make you feel nervous or uneasy. In fact, even if you are a storefront owner, it can still seem like a daunting or overwhelming term. But visual merchandising is not just for the physical presence of an organization or business—it is also important for your photo shoots, your live sales, and your online presence, as the same principles apply. So today our guest is Badeeha Jubeh, CEO of Retail Visual Identity and the go-to girl when it comes to merchandising. She is going to be sharing her tips for visual merchandising that will lead to more sales within your shop.

Listen in as Badeeha explains the importance of truly understanding what your customer wants instead of just purchasing, creating, or showing what you like or think looks good. You will learn how to truly understand what your potential can be, how to work towards your long-term goals, and how to inspire your customers to purchase your products. Visual merchandising doesn't have to be a scary task. By following Badeeha's simple tips, you will be on the right track to business growth!
>> EPISODE 335 – LISTEN NOW ON iTunes <<
>> EPISODE 335 – LISTEN NOW ON Spotify <<
See the Full Boutique Chat Podcast Website here
Watch the interview on Youtube:
What You'll Learn In How to Approach Visual Merchandising Like a Pro
---
How Badeeha became involved in visual merchandising.
The importance of understanding what your customer needs.
How to make good decisions to goal set.
Why it isn't just about where we are—it's about where we're going.
How to impact your metrics in a positive way.
Where you should begin with visual merchandising.
How to inspire your customers to buy.
Where you may be missing a prime opportunity for sales in your shop.
Badeeha's advice for signage.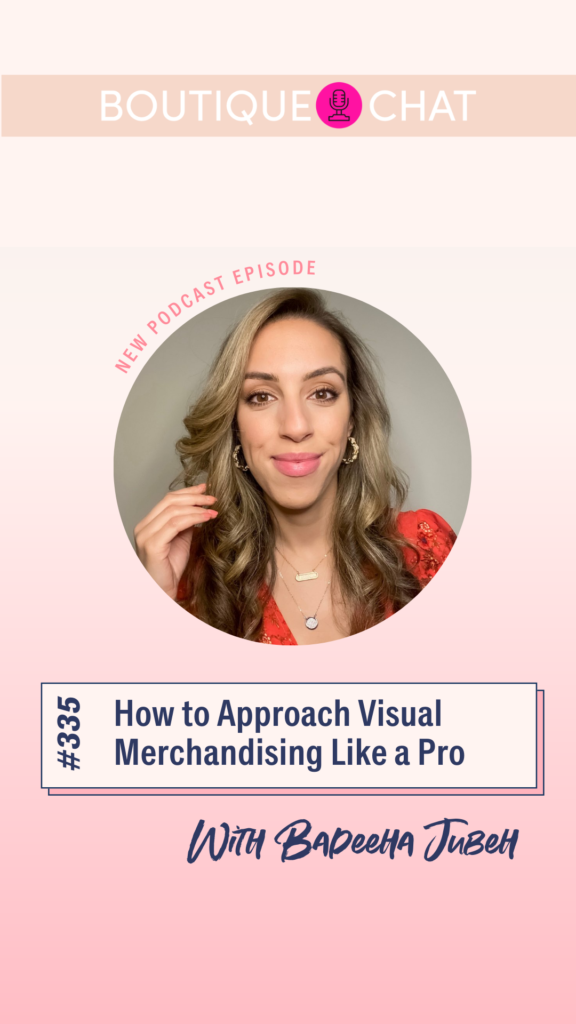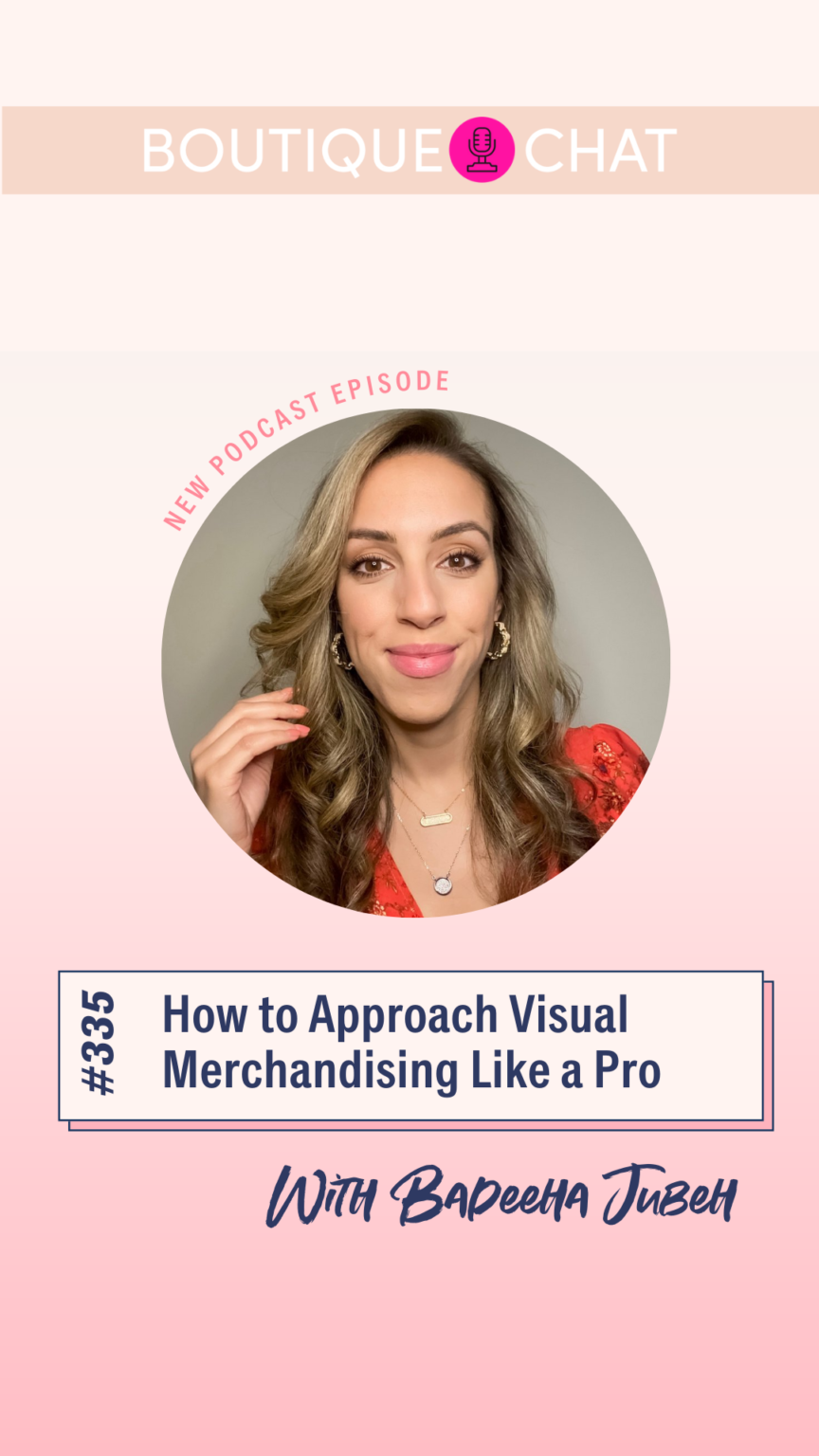 Favorite Quotes
---
"Being able to put strategy with my artsy side, and see it impact people and be able to make money off of it as well… that's what I really enjoy doing." – Badeeha Jubeh

"If you don't know your customer, you can't really make great decisions to impact your customer." – Badeeha Jubeh

"Color, print, and price point… if I ever walk into a store and I want to filter what's happening to impact the sales coming in, I would filter by those three." – Badeeha Jubeh
---
Resources:
Badeeha Jubeh: Instagram
3 Mannequin Mistakes Retailers Make that Repel Customers! Free Download.
Today's episode was brought to you by Candy Club. Click here to learn more: wholesale.candyclub.com
---
Join the Hub for more training, information, and connections.
www.theboutiquehub.com/join
Use the hashtag #AskAshley on Instagram, or tag her at @ajalderson or @theboutiquehubto suggest topics for the podcast and let us know what you thought about this episode!
Do you love the Boutique Chat Podcast?! Subscribe to our podcast and after that, leave us a review on iTunes Apple Podcasts here!

Original Air Date: October 12th, 2021
Do you love the details of How to Approach Visual Merchandising Like A Pro? Let us know what you think about our show and help spread the word about the #BoutiqueChat Podcast.
Recent Posts:
Big News from The Boutique Summit with Ashley Alderson

I'm coming to you from The Boutique Summit in Dallas this week! And I want to give you guys a quick update on how it's all going, as well as share some really exciting news. Along with the education and community, one of my favorite things about Summit is getting to share the latest news…

Maximizing Events and the Customer Experience with Jodi Stevens, Bless Your Heart Boutique

Today I am chatting with an OG member of The Hub and the queen of events Jodi Stevens, owner of Bless Your Heart Boutique! In addition to taking me through the evolution of her storefront and the lessons she's learned along the way, Jodi shares all her event planning tips and tricks, and specifically how…

The Boutique Hub at Atlanta Apparel

The Boutique Hub Team can't wait to head back to Atlanta market with you all! There is so much going on so we want to make sure you're prepared. Here's what you need to know about the March 2023 Atlanta market…