Today on the #BoutiqueChat Podcast Andrea Sager, Founder of Andrea Sager Law, joins us for Legal Tips for Small Businesses. As an attorney and former boutique owner, Andrea knows all the legal information small business owners may overlook. In today's podcast, she goes over how to choose the right entity, how to avoid infringement, and trademarks. Bring a pencil and paper for this episode because Andrea addresses all the critical legal tips small business owners need to know about! Tune in now to get all the details.
>> EPISODE 286 – LISTEN NOW ON iTunes <<
Don't Have iTunes? Listen on Libsyn here
See the Full Boutique Chat Podcast Website here
Key Points:
---
File for an LLC! The sooner, the better.
Do a thorough search of your potential business name. That includes name variations similar to yours!
If you are purchasing trademarked products always make sure there is proper documentation.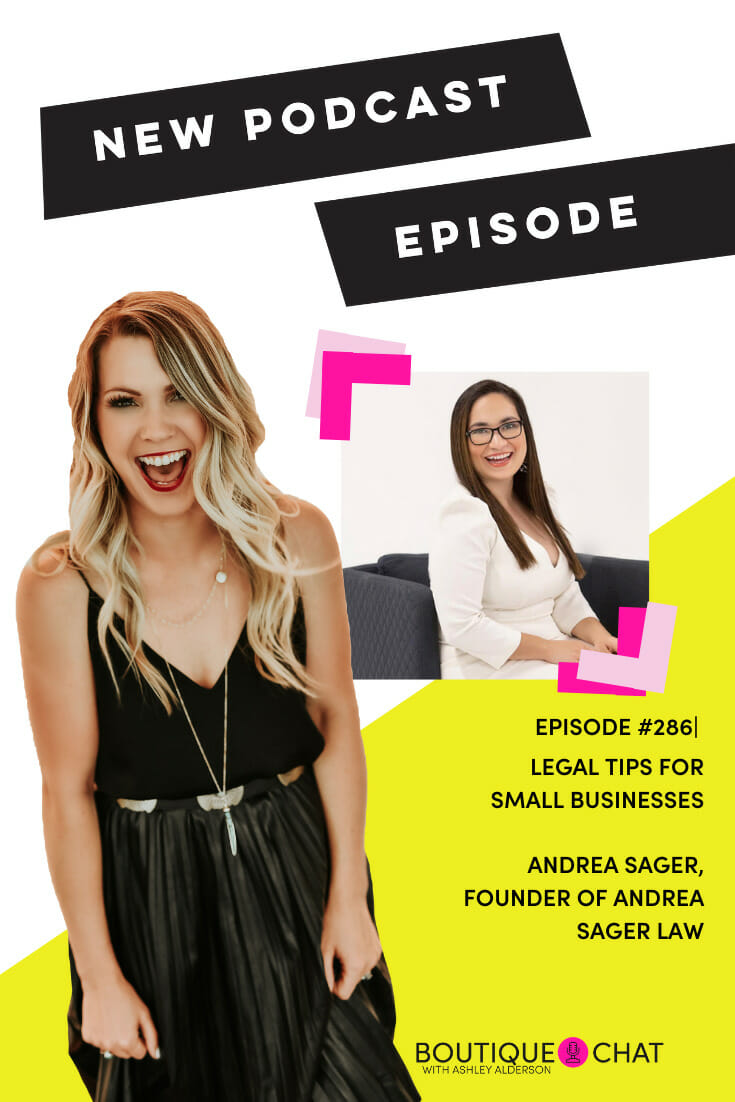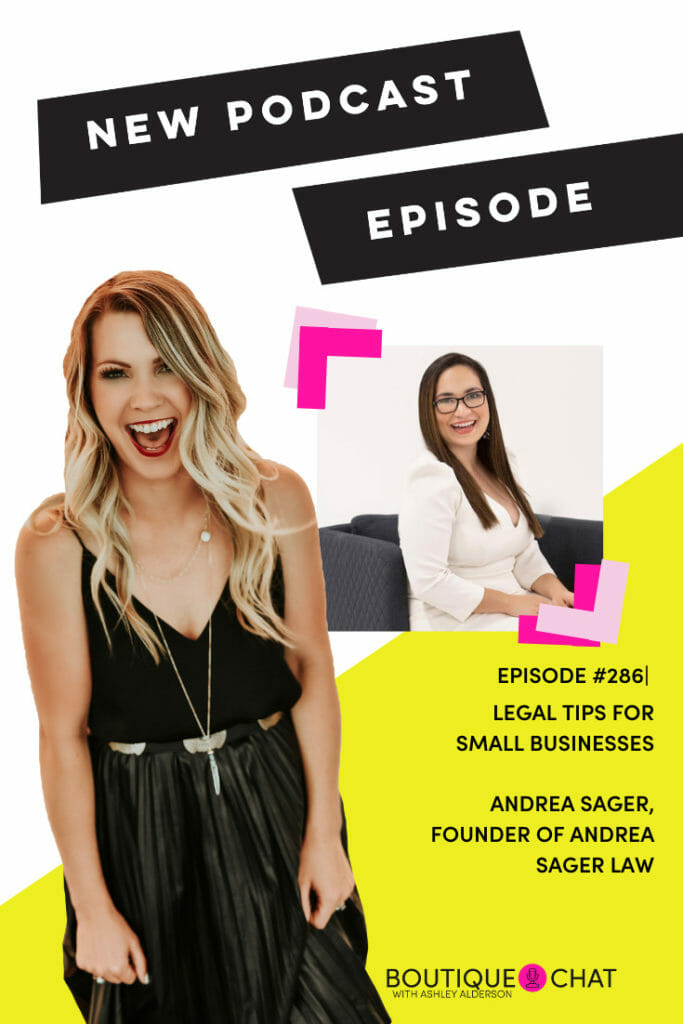 Favorite Quotes
---
"There was this gap between quality legal services and small business owners." -Andrea
"There is no short cut to the path to success. it's only being yourself, creating a great brand that's memorable, and doing your own original work." -Ashley
"States are popping up with new privacy laws left and right, so you have to make sure that you have a privacy policy and that it is accurate and up to date."
-Andrea
"If you protect yourself in the beginning you will spend less money down the road defending yourself."-Andrea
Where to find Andrea:
https://www.thelegalpreneur.com/
USE THE CODE: BOUTIQUEHUB $30 off the Thecontractvault.com
USE THE CODE: BOUTIQUEHUB $20 off
Instagram: @andreasagerlaw
---
SIGN UP FOR EMAIL UPDATES ON OUR WEBSITE:
https://theboutiquehub.com/boutique-summit-2020/
Join the Hub for more training, information, and connections.
www.theboutiquehub.com/join
Use the hashtag #AskAshley on Instagram, or tag her at @ajalderson or @theboutiquehubto suggest topics for the podcast and let us know what you thought about this episode!
Want to be our listener of the week? Then Subscribe to our podcast and after that, leave us a review on iTunes Apple Podcasts here!
Original Air Date: November 24th, 2020
Do you love the details Legal Tips for Small Businesses? Let us know what you think about our show and help spread the word about the #BoutiqueChat Podcast.
Recent Posts: