Today on the #BoutiqueChat Podcast Alison Grooms, Owner of Jules & James Boutique, joins us for Tips From a Successful Boutique Owner. Alison goes over everything and anything you can think of when it comes to owning a boutique. You'll hear her go over lives sales, vendor tips, hiring employees, and what it's like being a mom while running a business. But that' not all, tune in to get all the details on this candid conversation, filled with essential boutique owner tips!
>> EPISODE 285 – LISTEN NOW ON iTunes <<
Don't Have iTunes? Listen on Libsyn here
See the Full Boutique Chat Podcast Website here
Key Points:
---
Build a relationship with your vendors.
The individuals in your team can make a business sink or swim. Always take your time when hiring.
Do your research. Learn something new every day.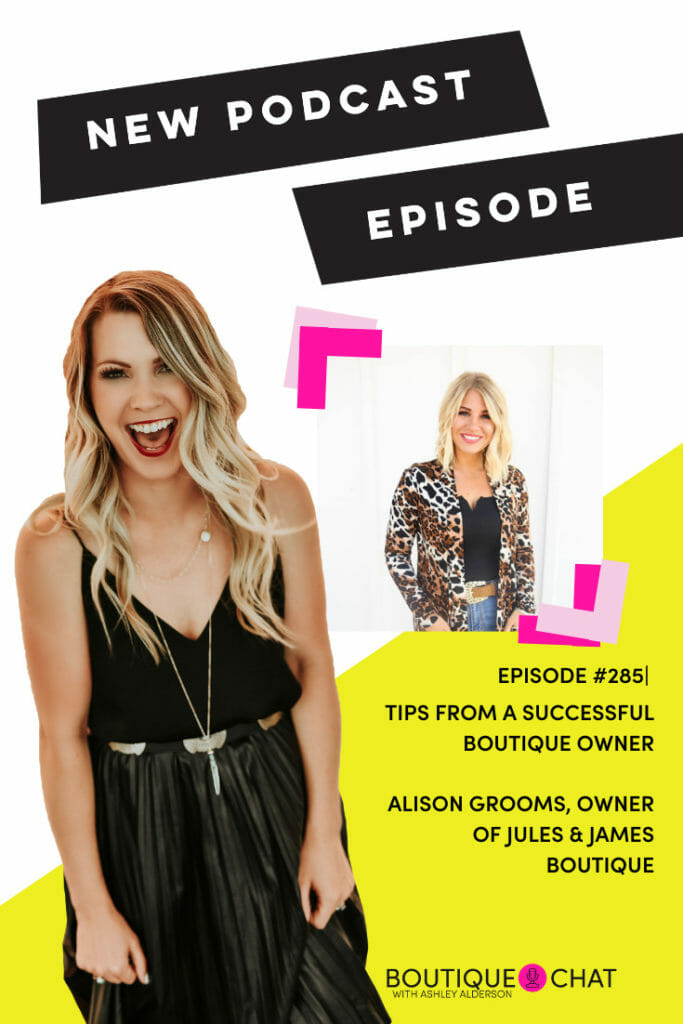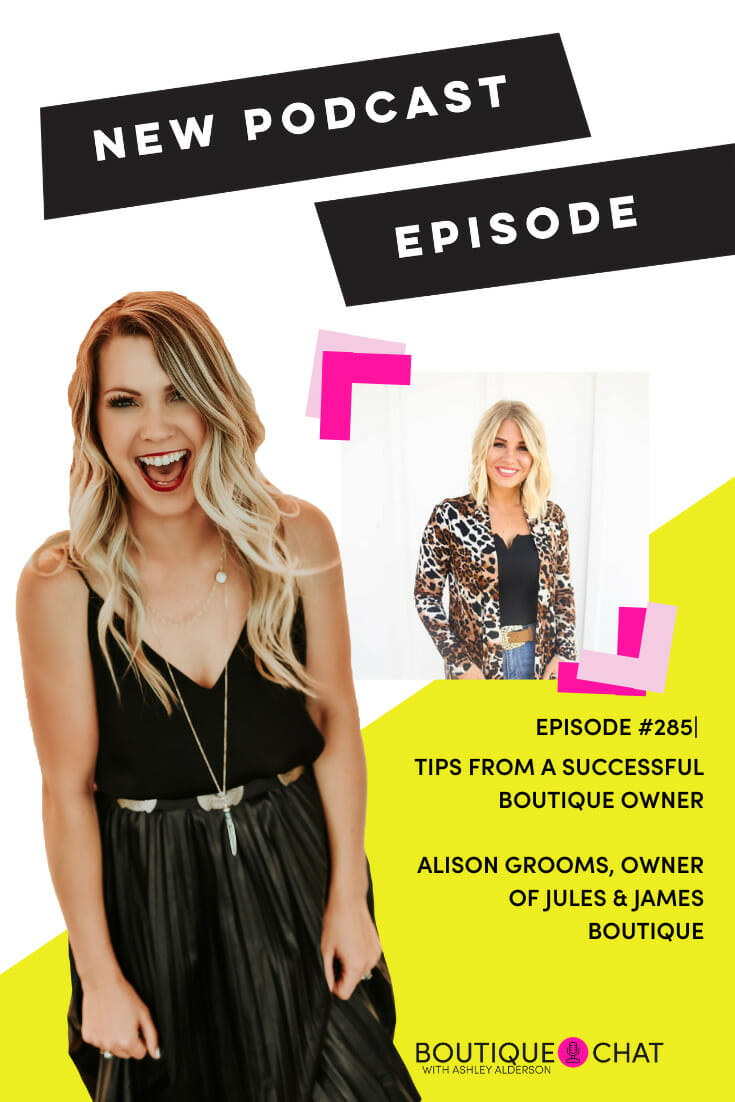 Favorite Quotes
---
"Be slow to hire and quick to fire. If I would've known that from the beginning it would have saved me a lot of headache and heartache."-Alison
"I don't micro-manage and I let them lead their teams." -Alison
"Don't compare but be inspired."-Alison
"It's not about the clothes the women wear, it's about the women wearing the clothes."-Alison
Where to find Alison:
Instagram: @julesandjamesboutique & alison_grooms
Website: https://julesandjamesboutique.com/
---
SIGN UP FOR EMAIL UPDATES ON OUR WEBSITE:
https://theboutiquehub.com/boutique-summit-2020/
Join the Hub for more training, information, and connections.
www.theboutiquehub.com/join
Use the hashtag #AskAshley on Instagram, or tag her at @ajalderson or @theboutiquehubto suggest topics for the podcast and let us know what you thought about this episode!
Want to be our listener of the week? Then Subscribe to our podcast and after that, leave us a review on iTunes Apple Podcasts here!
Original Air Date: November 17th, 2020
Do you love the details Tips From a Successful Boutique Owner? Let us know what you think about our show and help spread the word about the #BoutiqueChat Podcast.
Recent Posts: