In response to the restrictions put in place in Las Vegas, MAGIC, WWIN, and OFFPRICE are moving their February shows to the Orange County Convention Center in Orlando, FL. This show will take place February 9-11, 2021 & "each of the three events will feature considerate layouts, appointment-driven networking, as well as limited to no-contact registrations and early open hours for at-risk guests."
More information can be found in Informa Markets' December Press Release.
To ensure a higher level of safety, all visitors—including exhibitors, retailers, staff, and suppliers—will need to provide a negative COVID-19 test before attending. Don't worry, they have you covered! They are committed to making this a seamless, fast, and confidential experience.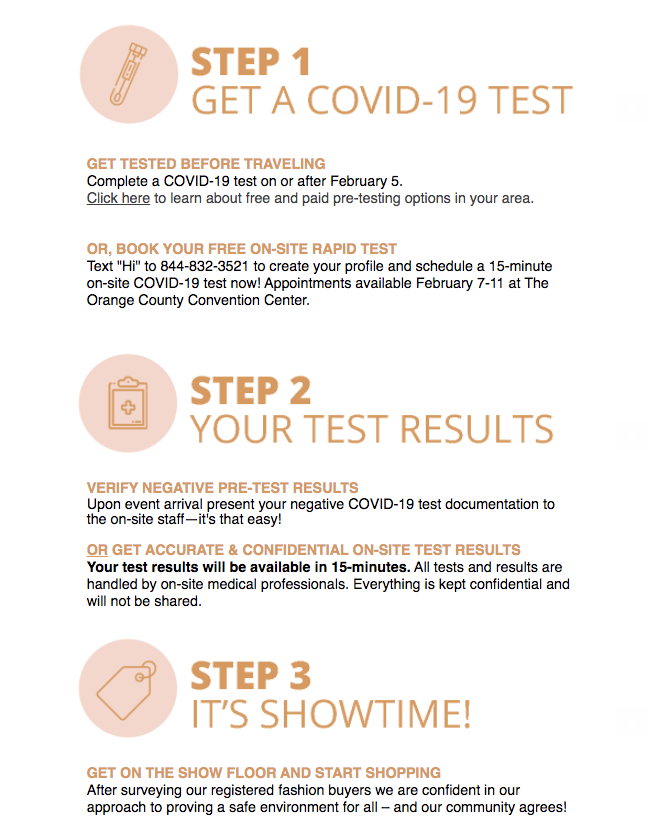 (Source: MAGIC)
ABOUT THE SHOWS MAGIC, WWIN, & OFFPRICE
---
MAGIC
Join this intimate trade event featuring women's trends and contemporary apparel, accessories, footwear, and select menswear brands. MAGIC Pop-Up, Orlando is a limited capacity, appointment-driven trade event gathering a retail audience of big-box, online, specialty, and boutique retail buyers.
(Source)
Digital Tradeshow
Shop the latest in women's young contemporary and trend-driven apparel, accessories, and select footwear brands. Further immerse yourself in the latest in women's fashion with shoppable product editorials, insightful and engaging educational sessions, and of-the-moment business resources – only found at MAGIC DIGITAL.

WWIN
The Womenswear In Nevada Show – also known as the WWIN Show – is a Wholesale Women's Apparel show floor filled with top name brands and up-and-coming innovators featuring more than 1,500+ lines from 400+ exhibitors. This is the ideal place to get a first-hand look at the newest designs, trends, and styles for the coming season. Known as the fashion and accessories trade show for all size women, retailers from throughout the US and 25 other countries come to WWIN seeking countless designs in every category, at all price points – modern updated, missy, petite, tall, plus size, contemporary, traditional and endless accessories. Attend idea-packed workshops and exciting special events, and even enjoy complimentary breakfast and lunch while you're here. This event is produced and managed by Clarion Events, Inc.
(Source)
OFFPRICE
This show is your go-to destination for adding quality, on-trend, and margin-building products to your store.
(Source)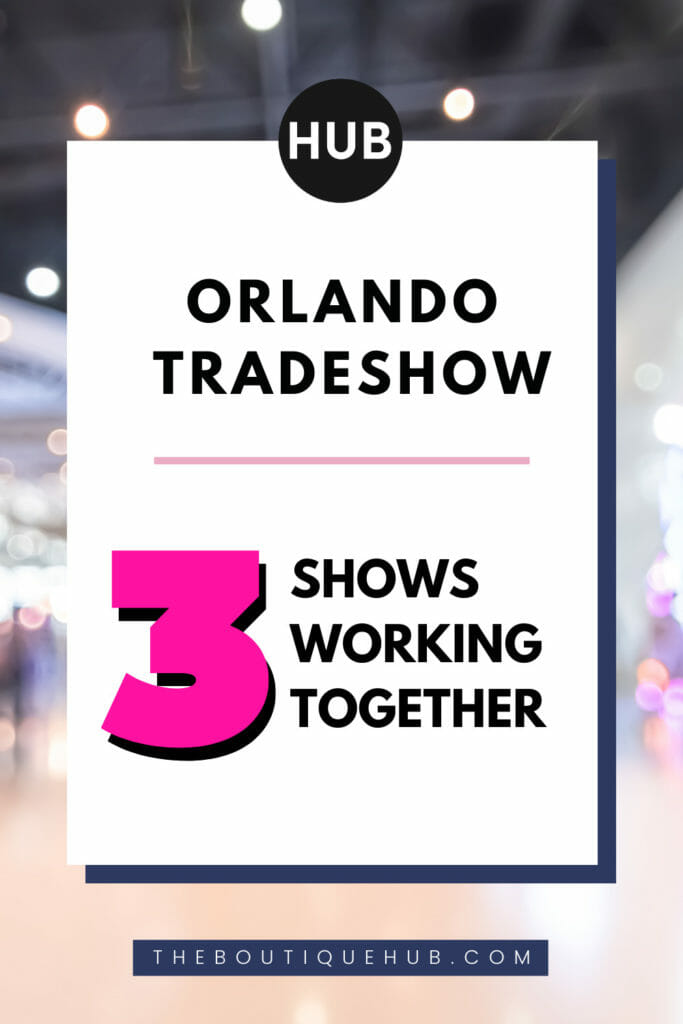 HUB EVENTS
---
Tuesday, Feb 9th
10:00 am "Customer Engagement: How to Attract, Engage and Grow Customer Relationships That Last" with Ashley Alderson (CEO & Founder, The Boutique Hub). MAGIC Education Stage
11:00 am – 1:00 pm Join The Boutique Hub for coffee & sweet treats after Ashley's talk! Due to social distancing, this is a "come & go" event without any set programming. Location: TBA
3:00 pm Social Media Panel with Ashley Alderson (The Boutique Hub), Kelly Helfman (MAGIC), and Taylor Jones (The Tiny Closet Boutique). MAGIC Education Stage
Wednesday, Feb 10th
1:00 pm "Only the Strong Survive – 5 Tips to Thrive in 2021!" with Ashley Alderson (CEO & Founder, The Boutique Hub). WWIN Education Stage
GENERAL MARKET RESOURCES
Did you love our post Orlando Tradeshow: 3 Shows Working Together?
Get more information just like this by joining the Hub for more training, information, and connections. www.theboutiquehub.com/join
Follow along on Instagram @theboutiquehub!