Why You Should STOP Putting All of Your Marketing Eggs in One Basket. The Boutique Marketing Strategy Guide. Presented by The Boutique Hub.
Where were you on March 13th, 2019? The corner café, maybe the park or were you in a complete panic behind your desk endlessly refreshing Instagram waiting for it to pop back up so you could reach your customers to share those cute new arrivals?
Just like a flip of a switch Facebook, Instagram and several other social media platforms were gone.
With so many of our businesses relying on these platforms to run on a daily basis, it's time we stop playing Easter Bunny and start securing our eggs in different baskets from now on should something happen to our main source of traffic.
Social Media today is a little scarier than before with the reported longest outage in Facebook history. It didn't help with the added punch of news of them changing their focus with the newsfeed in the coming years to moving it towards a more private messaging layout than the current public forum. Resignations of chief product officer Chris Cox and WhatsApp head Chris Daniels really makes you wonder what else is going on with these platforms behind the scenes.
We hope it made you stop and ask yourself the question of … why am I putting all of my eggs in one basket – the basket that is social media?
So how can YOU avoid this and start building a steady stream of traffic to your business without the worry of missed notifications and algorithms?

Let's talk about 3 common mistakes & 3 clear opportunities for your business to grow right now!

Watch this blog post talk live in Ashley's Dallas Market Center workshop:
3 Common Mistakes Boutiques Make
1. Relying on one, maybe two channels to get your message out daily.
You get the picture already – you can't put all of your eggs in one basket. This is the omnichannel strategy and meeting your customers where they are.
What property you do NOT own in marketing?
• Instagram
• Facebook
• Twitter
• Snapchat
• Pinterest
And the list goes on and on. You do not own those platforms. Site crashes, your handles get hacked or shocker – these companies decide to stop and close up shop. Gone. You lose everything.
What property DO you own in marketing?
• EMAILS
• PHONE/TEXT LISTS
• APP DOWNLOADS
This property is yours and what you put into growing these platforms the more secure you will be in reaching your customers if the social media train ever does decide to derail again at any given moment.
2. Not knowing what numbers you need to hit daily to be successful.
What are the three data sets that EVERY Boutique Owner under the sun must know like the back of their hand to be successful?
• Inventory – how it relates to volume and time
• Operating Financials – income/expenses and percentage categories
• Traffic – How much traffic in feet or eyeballs do you need to be successful and reach your sales goals daily?
If your sales goal is X what do you need in inventory on hand to achieve that? How much in fresh goods and how much for your markdowns to move your aged inventory on hand?
What percentage of your revenue is payroll, rent, operating and your take-home profit taking up? Are these in order or out of hand? No amount of good marketing can make up for bad inventory and financial planning!
Get this right FIRST.
If we are getting serious about the numbers….work them backward. Whether it's the site (eyeballs) or the store (feet) – what kind of daily traffic do you need for those sales to happen?
3. Not creating memorable experiences.
AKA "I like fashion so I'm going to open a boutique and sell stuff. "
A customer won't remember what they bought from you, but they will remember how you made them feel. So what's your strategy to WOW them?
• Your onboarding campaigns
• Follow up
• Personalization — how may phone calls and postcards do you get today? Would you feel special if you did?
• How are you supported after the purchase is made?
• Return policy?
• Personalized recommendations?
• UGC in your marketing – make them feel special!
• Ask them questions and build real relationships with them. By going live, authentic marketing, etc.
• WOW factor. What goes above and beyond to a surprise? Gift? A customer going through a hard time – help them, know they love something – gift it.
Going the extra mile for your customers and building a tribe around those you support you will never go out of style. Taking and fixing these 3 common mistakes in your business is a step on learning how to spread those eggs around.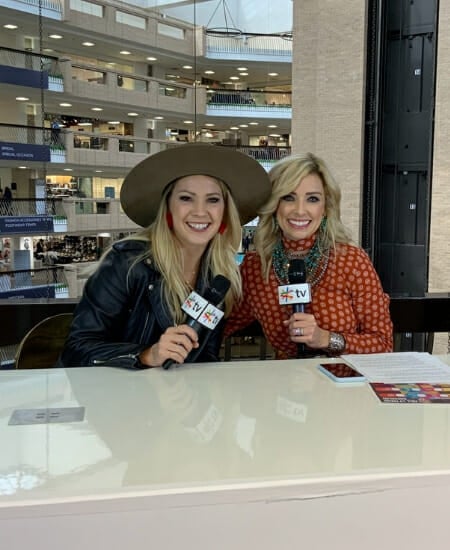 3 Opportunities Right Now!
1. Text Marketing
How it works – the customers text your 'keyword' to your 'shortcode' to opt into your list. You engage them weekly with not just selling – but like any other channel, building relationships with them. Questions, jokes, invite them to a contest, live behind the scenes, try on session, etc. before the weekly live sale.


How To Grow Your Text List:
• CTA (Call To Action) on your website homepage
• Package inserts
• On Facebook ads
• On Facebook cover photos
• InstaStories – giveaway
• Monthly giveaway via email, FB, IG – cross channel campaign
• At checkout in the store, text them a coupon code
• Make them feel special….
2. Great Automation
When you target everyone you reach no one — so how can we take email just a step further and make our customers feel warm and welcome?
Email marketing may only have 15-18% open rate, but that's about 14 to 17 % more than on FB seeing your content. A huge opportunity!
3 Types of Emails You Should be Sending:
• Ongoing weekly to daily newsletter types – single send campaign
• List welcome automation – subscribing, purchasing
• Segmented automation – campaigns you create or automate based on – abandoned carts, local events, best customers, customer anniversaries, customers by brand, customers who have not purchased in 90 days, customers by size or style, customers on the list but never bought.
How can we uncover the needs your customers have right now and provide solutions to them? That doesn't mean how can I sell them something but how can I create a personal campaign.
Imagine: An email with a link to a collection – buy this now.
Or first, a personal email about 5 ways to spring clean your closet and get the most out of your wardrobe followed by a link to a collection. Or maybe, a personal email about your families spring break and trend + survival tips every mom must know.
What do you think will get the most engagement?
3. Cross Channel Strategy & Consistency
We just dabbled in this with our email strategy – if we have a themed collection of the week and are making sure it's cross-marketed and reaching customers via Instagram, Facebook, Email, Text, Pinterest, our app and site push notifications…. but what if you didn't post any of those things tomorrow?

Would your customer know how to purchase from you?
Or would she know WHERE and WHEN your newest arrivals go live?
Are you randomly dropping them on social and linking to your site? Adding Comment Sold in a live sale, then posting to the site? Make sure your customers KNOW when and how to purchase like clockwork.
Simple ways to add consistency:
• Add it to your messaging – Example: It's Tuesday Night Live, get them first live then go to the website for restocks.
• Text before each live
• Always give 3 ways to purchase:
• Get it in the app first
• Comment Sold
• Go to this URL
Whatever you do – do it consistently and with clarity for your customer. Build your list now so if Social Media were to disappear tomorrow, you won't lose all of your eggs in the process.
So are you ready to STOP being the Easter Bunny now?
We hope so! Gather those eggs and begin putting them in places that YOU own so they will not disappear even if everything else does. We know how hard you have worked to gain all of the fabulous customers and you deserve to keep them.
Cheers #BoutiqueBosses,
Ashley Alderson (Founder @ The Boutique Hub)
Copyright ® The Boutique Hub 2019
If you want to know the latest boutique marketing strategies, make sure you check these out as well.