Today on the #BoutiqueChat podcast Jennafer King & Jessica Divine, founders of The Red Racoon Boutique, join us for How to Successfully Manage Multiple Storefronts. The Red Racoon Boutique was Indiana Boutique of the year in 2020, Overall Storefront Boutique of the Year in 2019, and Runner up Storefront in 2018. They go over how they manage their inventory across multiple storefronts, tips for live selling, and how they've created a strong team dynamic. But that's not all, tune in to hear more from this incredible sister duo!
>> EPISODE 279 – LISTEN NOW ON iTunes <<
Don't Have iTunes? Listen on Libsyn here
See the Full Boutique Chat Podcast Website here
MAIN POINTS:
---
At the Red Racoon, they base the inventory placed in the storefronts on the customer's style in that location. Location can really make a difference in customer preferences!
While managing multiple storefronts, all inventory is placed in one system but organized by tags in Shopify.
Open communication in your team is key. Holding weekly meetings, even if they are just quick updates, will make a huge difference in your business.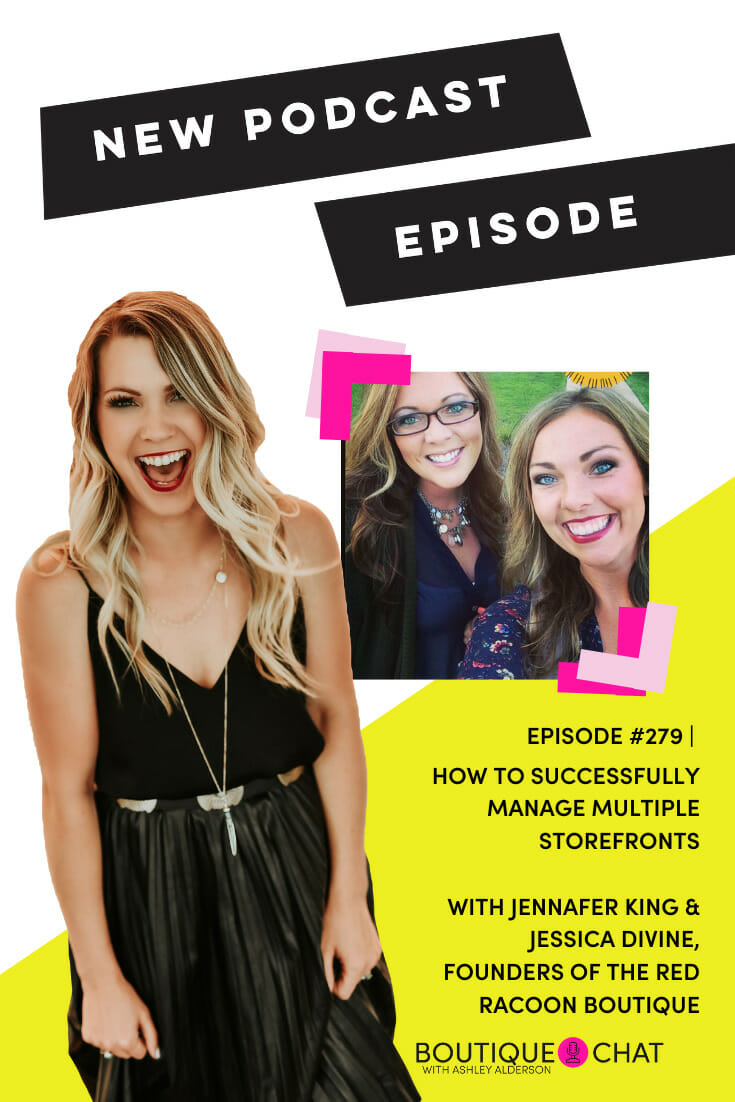 FAVORITE QUOTES:
---
Stay in your own lane and do your own thing, even if everything your doing is what everyone else says not to do. If it works for you, you need to keep doing that. -Jessica
As far as our tracking system, it is all one system and then we use tags in Shopify to denote what location it's at. -Jessica
As far as gaining more viewers, it's not about just getting on to sell but to chat and be human with your customers. -Jessica
"Quit selling yourself short. Be more than a clothes flipper. You need to make a profit." -Jennafer
Where to follow and find Jennafer King & Jessica Divine:
Instagram: @theredraccoonllc, @studio247, @jabaird
Website: https://theredraccoon.commentsold.com/
---
Join Ashley Alderson, Boutique Marketing Expert and Founder of The Boutique Hub to walk through 6 Key Areas to maximize this holiday season. Join Holiday Marketing Masterclass!
From content planning, eCommerce, and events to profitable promotions, team training, and traffic….this is the most sought after Holiday training program online. And it'll impact your business all year long!
---
SIGN UP FOR EMAIL UPDATES ON OUR WEBSITE:
https://theboutiquehub.com/boutique-summit-2020/
Join the Hub for more training, information, and connections.
www.theboutiquehub.com/join
Use the hashtag #AskAshley on Instagram, or tag her at @ajalderson or @theboutiquehubto suggest topics for the podcast and let us know what you thought about this episode!
Want to be our listener of the week? Then Subscribe to our podcast and after that, leave us a review on iTunes Apple Podcasts here!
Original Air Date: October 6th, 2020
Do you love the details How to Successfully Manage Multiple Storefronts? Let us know what you think about our show and help spread the word about the #BoutiqueChat Podcast.
Recent Posts: