Today on the Boutique Chat Podcast Brittany Tayvinsky, Owner of 80 Sq Ft Boutique, joins us for TikTok Tips for Small Businesses. Brittany is known as the traveling boutique owner who had her content go viral on TikTok. In this episode she will cover what type of content is best for small business owners, the hashtags you should be using, tracking your conversions, and so much more! Brittany shares all the secrets to growing your business's following on Tiktok!
>> EPISODE 288 – LISTEN NOW ON iTunes <<
Don't Have iTunes? Listen on Libsyn here
See the Full Boutique Chat Podcast Website here
Key Points:
---
Even if you arent ready to use TikTok yet, save your handle.
Keep it authentic and fun. Less direct sale content, more how-tos and try on videos.
The more niche the hashtag, the better.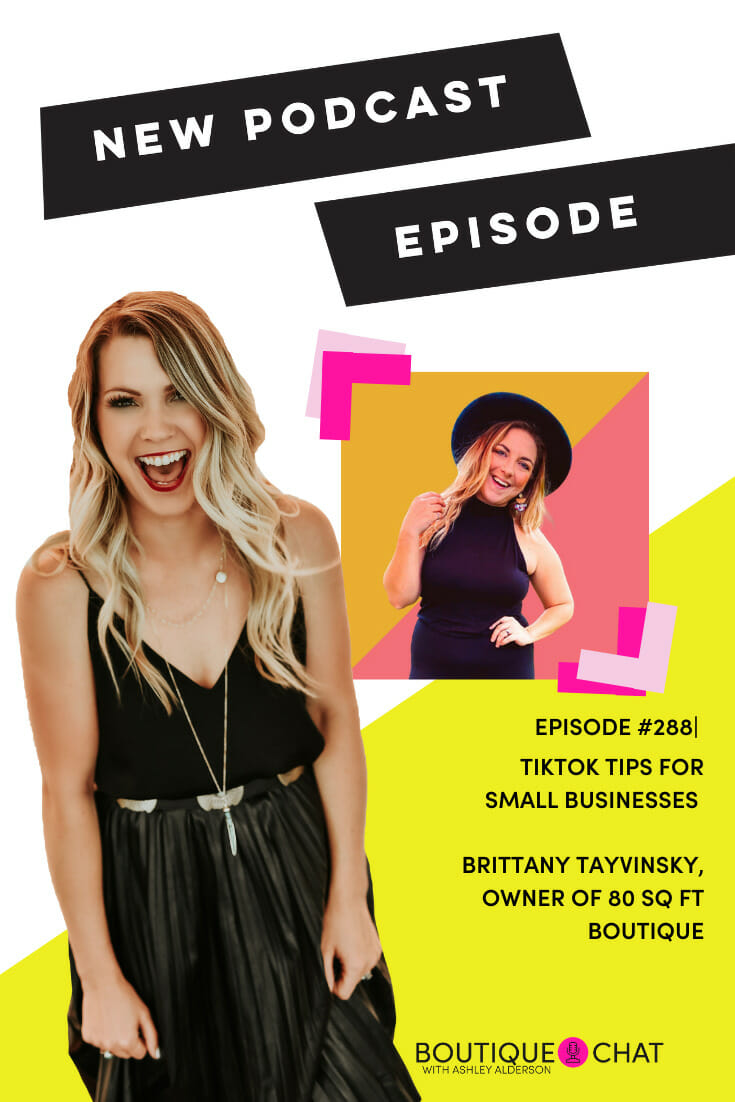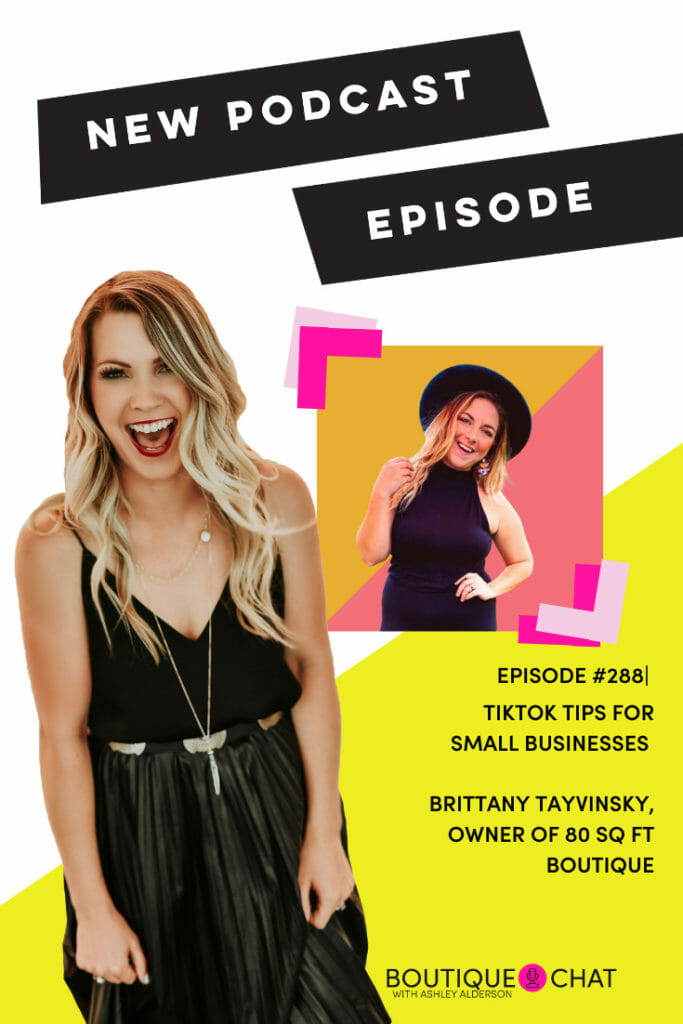 Favorite Quotes
---
"If you still aren't sure about TikTok, still go ahead and save your handle." -Brittany
"I like posting behind the scenes or how-tos, not the direct sale type of post you would use on Instagram stories. Go on there looking to become BFFs with your future client, what would she love?" -Brittany
One great thing about the Tiktick algorithm is you have an equal chance of being viral compared to the people that may have 2 million followers. You may have just started on TikTok but you still have equal weight in the algorithm." -Brittany
Where to find Brittany:
Website: https://80sqftboutique.com & https://empowerheragency.as.me
Instagram: @80sqftboutique
Tiktok: https://vm.tiktok.com/ZMJqedHEo/
---
SIGN UP FOR EMAIL UPDATES ON OUR WEBSITE:
https://theboutiquehub.com/boutique-summit-2020/
Join the Hub for more training, information, and connections.
www.theboutiquehub.com/join
Use the hashtag #AskAshley on Instagram, or tag her at @ajalderson or @theboutiquehubto suggest topics for the podcast and let us know what you thought about this episode!
Want to be our listener of the week? Then Subscribe to our podcast and after that, leave us a review on iTunes Apple Podcasts here!
Original Air Date: December 8th, 2020
Do you love the details TikTok Tips for Small Businesses? Let us know what you think about our show and help spread the word about the #BoutiqueChat Podcast.
Recent Posts: